Weather doesn't destroy home meet
Few expected the meet to even happen 24 hours before it was scheduled to start. The weather man was wrong again though, and the result was a spectacular De Soto Invitational Tuesday at De Soto High School.
Light sprinkles came and went and one 30-minute break was forced by heavy rain and lightning in the area, but for the most part, the meet went off very well, De Soto track coach Chris McAfee said.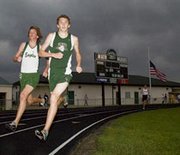 "I didn't even think we were going to have it (Monday,)" McAfee said. "Then (on Tuesday) it seemed more and more like we'd be able to get it in."
Get it in they did. Gardner Edgerton won the girls half of the meet with 147 points, 11 ahead of Mill Valley and 43 ahead of third-place De Soto.
Olathe Northwest cruised to the boys title with 150 points, well ahead of Mill Valley at 112 and Bonner Springs at 95. The De Soto boys finished tied for fifth with 34 points.
It wasn't about the teams, though. The meet was littered with excellent individual performances, none more awe-inspiring than Bonner Springs' Eddie McClain's 7-foot high jump.
McClain, a senior headed to Wichita State, bested his competition by 14 inches and his jump was the best in the state this season.
It was all about the individual performances for the Wildcats too.
Jackie Goleman was the only Cat to win an event, and she was strong enough to claim two first-place medals.
Goleman won the 100-meter hurdles with a time of 16.07 seconds. She also won the high jump with a leap of 5 feet, 5 inches.
The 2006 Class 4A high jump champion was just an inch short of her career best mark from last year's state meet, and she said she feels as strong as she ever has.
"I feel stronger than I was last year. The lifting program with Coach (Brad) Scott has really helped," Goleman said. "I'm pretty proud of how I'm doing right now."
Though no other Cats took home gold, the coaching staff had little trouble rattling off other impressive performances.
Christina Davis was just seven inches short of first place in the discus with a personal best toss of 113-4. Angela Topf was third in the shot put at 35-9 1/2. Cheyenne Williams was third in the pole vault.
Lauren Karnitz was second in both the 800-meter run and the 1,600.
Andre Linzy was second, but within just two inches of first in the triple jump. Colin Jokisch was second in the boys 1,600 and Lucas Slater and Chris Dvorak finished fourth and fifth, respectively, in the 3,200.
More like this story