Late explosion leads Cats to another win
The De Soto baseball team has lived a season of split personalities. At times the Cats have been awesome offensively. At times they've been rendered punchless.
Both of the team's heads roared Tuesday when De Soto traveled to Paola.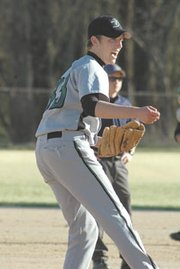 Fortunately for the Wildcats it was the slugging personality that carried the day.
De Soto rallied from a 3-2 fourth-inning deficit in a big way, winning 19-4 to improve its season record to 5-2.
"We did what we had to do," De Soto coach Joel Thaemert said. "We hit a few balls and that's what happens."
In a season so far defined by inconsistency and a game that goes to underline that point, Wildcat starting pitcher Brady Maasen was the team's most consistent presence. Though he gave up the three runs early and let slip a 2-0 first-inning lead, he attacked the strike zone and located well with fastballs, changeups and curves all afternoon.
He finished with seven strikeouts and found his way out of several crucial jams midway through the game.
"That's the first time I've had all three pitches working this season," Maasen said. "It was my best start of the season."
The offense meanwhile didn't even really start the game slow -- Austin DeGraeve and Tyler Farmer scored in the first inning. But Paola retired 10 of the next 11 Cats to come to the plate and De Soto trailed 3-2 into the fifth.
The Cats made some mighty progress in their few remaining frames. Maasen got aboard and scored to tie it when Dustin Grimes reached on an error. Travis Crow then put the Cats ahead with an RBI single and Farmer brought two home with a double.
Paola responded with one in the bottom half of the inning and brought the tying run to the plate, but Maasen earned the strikeout to get out of the inning, and De Soto would quickly put the game away.
Five more Cats scored in the sixth as the Paola pitching staff began to unravel. An Erik Hill double scored two, but two reached thanks to errors, one was hit by a pitch and another walked.
Seven more scored in the seventh. Eight De Soto players scored at least one run and three scored at least three. DeGraeve was three-of-four with four runs scored and Farmer scored three times and had five RBIs.
"It was everybody," Maasen said. "The guys at the top were hitting well, and when the bottom of the order produces too, it's great. They were all hitting for awhile there."
It by no means is an easy road from here for the Wildcats. De Soto hosts Anderson County Thursday, then will face a busy week next week as it tries to make up for several rainouts.
"We should have a chance Thursday, Thaemert said. "This is a big week. We really need Thursday's games to help set up next week."
More like this story