Award-winning
KU

intern earns praise at De Soto Multi-Service Center
Majoring in social work at Kansas University, Paula Pyle understood the need for programs to help those in need. But nearly eight months at the De Soto Multi-Service Center has opened her eyes to how much poverty can exist amongst affluence.
"That so much need exists in Johnson County," she said when asked what she found surprised her about her student internship. "There's poor people in Blue Valley."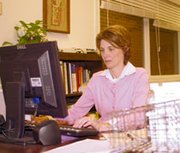 Pyle's internship has put her among those on the frontline responding to that need.
De Soto Multi-Service Center coordinator Jodi Hitchcock said Pyle wasn't asked to answer the phone or straighten out the files since starting her internship late last August. With traffic steadily increasing at the De Soto site of the Johnson County Human Services and Aging Community Outreach Program, an intern is a resource too valuable to waste on such trivial tasks.
"She works with clients; she's doing case management. She went through the whole routine," Hitchcock said. "She has the basic skills to just jump in and go. Sometimes students are a bit shy, but Paula just jumps right in. If she doesn't know something, she'll find out.
"I've been really fortunate with the students I've had. It's vital with the amount of work we do out of this office. It's just one of the best places to get experience because you get a taste of about everything."
On the two days a week Pyle commutes to the center from her home in Gardner, she is usually the first person people see as they walk in the door.
"We have a nice steady stream," she said. "It gives you a general feel of what people need and struggle with -- definitely health care needs but also things like mortgages, rent and utilities."
Two committee assignments added to the experience and workload. With Hitchcock, Pyle sat on the committee that monitors the De Soto FlexRide transit program and the Johnson County K-State Extensions Family Nutrition Program Committee.
That latter committee seat led to an assignment that Hitchcock said took advantage of Pyle's excellent organizational skills.
"She concentrated on compiling a nutrition resource book," Hitchcock said. "It has budgeting information, meal planning, grocery shopping tips -- everything you want in a resource guide to give people a way to make their lives a little less chaotic.
"It will go countywide soon."
Before she was married, Pyle worked as a secretary in the social work department at Olathe Medical Center. The good feelings about the experience stayed with her as she raised a young family and worked part-time as a substitute teacher.
"I enjoyed the work and always had the desire to one day return to school," she said. "I had my associate's degree so I was admitted right in."
This month, Pyle was awarded the Margo Award as the outstanding undergraduate intern in the KU social work program. The award is one of four named for KU social work professor emeritus Margaret Schutz Gordon, which are given annually to one undergraduate and three graduate students.
KU social welfare professor Jean Peterson, who directs social work internship program, said field supervisors nominates students and the school's facility makes final selection for the award.
Pyle's stay in De Soto is about over. She will graduate in May and will start graduate school in June with her next internship posting coming in August.
She will miss De Soto and Hitchcock, Pyle said. If one revelation from the internship was the amount of need that exists amongst affluence, another lesson was that people care, she said.
"Since last August and early September I've seen the generosity of a small community," she said. "I've experienced that people do care. I think that has to do with the small community De Soto is."
More like this story