Playing through the pain
De Soto senior back to field after injury
De Soto High School athletic trainer Steve Hawkins said one of the things that allowed injured senior softball player Kegan Cronin to find her way back to the field was her ability to differentiate between "hurt" and "pain."
There were plenty of times the catcher felt the pain of her constantly separating shoulder. She said she felt it through most of last season. She felt it when she would throw a ball or absorbed a hit behind the plate. As the condition worsened -- thanks at least partially to Cronin's refusal to give up on her favorite sport -- she felt the pain more and more.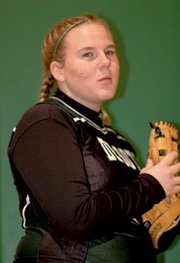 The hurt also started to seep in.
It came when she finally realized she'd have to have surgery, and again early this spring when her teammates broke out the bats and balls to start practice, Cronin still sidelined and recovering. It came when she realized she wouldn't be completely ready for the start of the season and it came when she saw teammates get the opportunity to live the dream she feared her injury might prevent, earning a college scholarship to play softball.
"It was hard," Cronin said. "I felt like I let down everyone. Not that there was anything I could have done, but I felt I was letting people down."
There was pain, and there was hurt, Cronin said. Only now are both beginning to subside.
The pain started last year. Cronin's shoulder would pop out of its socket from time to time during physical activities. It happened once, then again and again, and as the muscles, tendons and cartilage holding the socket together frayed and wore, it happened more often.
Hawkins said he knew fairly early that surgery was inevitable.
"I told her if she wanted to keep playing at the level she was, she'd have to get it fixed," Hawkins said. "I told her she didn't want to be 40 or 45 years old and have to have a shoulder replacement because of what she was doing now."
Cronin wasn't so sure, however, and she kept playing. Even though softball -- especially her catcher's position -- became difficult, she finished the high school season and launched into summer ball with her friends and teammates. She was set to be a senior, and she didn't intend on missing the priceless offseason work.
"I did physical therapy to try and avoid surgery, but I pushed myself too hard," she said. "I struggled last year hitting and throwing."
Finally, she couldn't deny surgery any longer. She couldn't pass her pre-season physical in August, and she scheduled her surgery at Mid America Bone and Joint for September.
That meant a better shoulder in the long term, but six frustrating weeks in a sling in the short term, and even more frustration beyond that.
She basically had to learn to throw again after the sling came off. She had to learn how to live without aggravating the injury, and how to play softball without stumbling into excruciating pain.
It is working though, and Cronin's working her way back on the field. She was able to serve as designated hitter last month when the season began, and finally took her position behind the plate last week in a game against Osawatomie. She still couldn't go for the whole doubleheader -- Cronin's been tutoring freshman Megan Sterling to play in her steed -- but she's getting close.
"It's so nice having her back," De Soto coach Sissy Fletcher said. "Kegan has so much experience and her communication skills are so good, it helps the team that much more. I'm confident in her skills and I feel comfortable when she's back there behind he plate."
A long recovery, daily athletic training and proper form have helped the pain go away. The hurt is leaving too. Cronin said she accepted Tuesday night an offer to play with teammate Meagan Bliss at Fort Scott Community College.