Grandparents make day special at Mize Elementary
A hug from grandma was the perfect end to a school day for Mize Elementary School fourth-grader Bretlyn Opfer of De Soto.
Lynda Anderson said she was pleased to come from her Missouri home to visit Bretlyn's school for the Monday celebration of Grandparents Day. Dozens of grandparents visited Mize in celebration of the day. Children at Mize sang songs, read poetry and interviewed their grandparents to learn about their history and their families.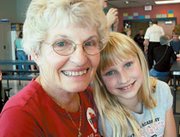 Bretlyn made a recipe for her grandmother's personality as part of her school project. The recipe included lots of love and generosity as ingredients.
"She's real creative," Anderson boasted of her granddaughter. "She's always making us things for birthdays and Christmas."
As Bretlyn interviewed her grandma, Anderson told her of a story about gaining weight in school. At that time in the World War II era, children in the De Soto area were encouraged to gain weight believing it would lead to better health. Anderson said she won one of the competitions by eating raw potatoes.
Lyla Girth Rockwell drove 250 miles just to spend time with her granddaughter, Mize Elementary fourth-grader Emily Hess of Shawnee.
"I told her about how I went to a country school just like that (the old Virginia one-room schoolhouse on the Mize Elementary School grounds)," Rockwell said. "She was surprised to hear about how we had all grades in one room. And when I was in seventh and eighth grade, I was the only one in my grade so I helped teach the younger ones."
Rockwell told her granddaughter it was that one-room school experience that led her to become a teacher for the next 40 years in Nebraska and California.
Nathan Zwahlen interviewed his grandmother, Diana Zwahlen.
"I learned that she was a twirler at Shawnee Mission North," Nathan said. "I'm not even sure what that is."
Jessie McHenry of western Lenexa got to spend time with her grandmother, Donna McHenry.
"I learned that her middle name is 'Lou,'" Jessie said.
McHenry said she was surprised by a few of the things her granddaughter didn't know.
"She's just never had the opportunity to ask them," she said.
Amri Kilgore, Shawnee, said her grandparents couldn't come, but she got to interview her Scoutmaster, Ronda Lee Morris.
"We had so much fun," Amri said. "She told me about her favorite stories and her ancestors."
Student teacher Jill Roush said she was honored to be part of the ceremonies.
"It's just important for them to show appreciation for their grandparents," she said. "And it gave the grandparents an opportunity to see their child's school."