Doin' it on D
Cats hope fired up defense keeps team perfect
It's the kind of tradition the 2006 De Soto Wildcats hope all the alumni and fans that turn out for Friday's homecoming game recognize, and it's the kind of tradition the Cats hope to display in full force as they showdown against Anderson County.
When asked to define De Soto football, few of the Wildcats who have played or coached under current head Cat Brad Scott fail to start by mentioning defense.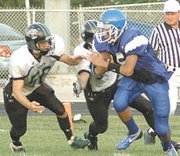 After a comparatively down year in 2005, that hard-hitting brand of defense the Cats hope to trademark may be back. De Soto has stonewalled its opponents through the first two games of the season and hopes to do so again in front of Friday's homecoming crowd.
"Our biggest thing on defense right now is that we're playing as a team," Scott said. "Everyone's doing their own job. Coach (Tom) Byers is preaching run, hit and celebrate and that's what I like about our defense."
De Soto was at its defensive best Sept. 7 against KC Sumner. The Cats picked off three passes, notched three sacks and dismantled an offense that scored more than 40 points the week prior.
Sumner tight end Brian Moten had four touchdown catches in Week 1. He had just three catches at all in Week 2, and compiled only 18 yards.
The Cats gave up 19 points in their first game to Ottawa, but most of those came late in a meaningless game.
De Soto was only in the middle of the league defensively last year and both Ottawa and Sumner offered legitimate offensive threats -- so what's up with the crack down?
Everything, Scott said. From experience to attitude, depth to schemes, he said this group has the makings to be special.
On the line, Jordan Smith has emerged as a leader. Slotted as a backup linebacker and a backup quarterback after moving into the district early last season, Smith has flourished by breaking into the opponents' backfield and wreaking havoc.
He helped with two sacks against Sumner and pinned a running play deep in the backfield.
Tyler Farmer has had success blitzing as well. Early this season, De Soto has had little problem getting a hold of the quarterback.
"Jordan Smith is everywhere. He's just everywhere," Scott said. "That's the kind of kid, maybe he doesn't have the most orthodox stance, maybe he doesn't do things the way you picture things to be done perfectly, but he's always around the ball and he makes plays.
"Clinton Smethers got off the football up front (against Sumner) and he ate their center alive at times. Trevor Leahy and Tyler Farmer were on the edge and our DBs had two picks."
J.T. Thompson and Dustin Ester have continued to help anchor down a veteran linebacker corps, but experience in the defensive backfield has also helped the Cats early in the season.
Austin DeGraeve and Jarod Bader both took their lumps while starting at cornerback last year, but Bader had two interceptions against Sumner. Now those two are being pushed by sophomore Mark England.
"Last year we had Neil (Erisman) in the middle (at safety), but we also had two new kids at corner," Scott said. "Those two coming back with experience has really helped us because they're really comfortable now."
Now the challenge is to keep the intensity up and the scores down. Scott said this unit isn't like his best one from two years ago. That squad gave up only 70 points on the season. But he said he's still seeing development. He's still seeing his players learn and adapt under Byers, the new defensive coordinator.
This may not be the defense from two years ago, but he said it is still a unit in search of an identity that could grow tremendously in the coming weeks.
Anderson County (1-1) beat Prairie View last week 17-14 and did enough on offense to worry Scott and the De Soto coaches.
Now, he said its up to the players to prove it all once again.
"We're still searching, but I'll tell you what, we're going to strike you," Scott said. "That's what I like. We're a really physical football team after two games.
"When we stop the film on a tackle, we see nine hats around the ball. Most of the kids will run to the football and when you hustle, good things happen. We might give up a play here or there, but if we keep running to the ball, we'll be OK."
More like this story