Countdown to a new life
De Soto co-ed awaiting liver trainsplant to cure rare genetic disorder
For 20-year-old Libby Stone, the memory of turkey roasting for holiday dinner doesn't evoke pleasant thoughts of nostalgia.
"It's torture," she said. "I hate Thanksgiving."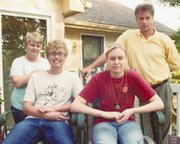 The fund Liver for Libby to help the family of Libby Stone with expenses associated with her needed liver transplant has been established at De Soto's FCB Bank. For more information, call the bank at (913) 583-3222.
When it comes to food, Libby has been left out all her life. Thirteen days after she was born, Libby was diagnosed with the rare genetic disorder, Maple Syrup Urine Disease.
"The babies' diapers smell like maple syrup," Libby's mother, Robin Stone, said.
Wearing a green, hooded De Soto High School sweatshirt to provide the heat her undernourished body doesn't, Libby explained she lacks the gene that produces an enzyme responsible for processing three of the 22 amino acids the body produces.
Without strict dietary control, a toxic three-branch chain of amino acids could build up in Libby's blood stream, affecting her brain functions and -- if unchecked -- lead to coma and death.
The young woman survives on what she and her mom call "milk shakes," although there is no milk in them because dairy products like meat and other protein-rich foods are forbidden.
"Basically, it's all the amino acids broken down so I can digest them properly," Libby said. "It's pretty much my food."
In addition to the formula, Libby can safely eat carefully controlled amounts of vegetables and fruits. In what Libby said was a common trait in those with the disorder, her favorite food is potatoes.
"French fries and ketchup," she said.
She occasionally has a small bite of meat a small bite of meat or a third of a small milkshake, Libby said. Should she exceed the limits, there's a price.
"Ever had a real bad hangover?" Alan said.
Diagnosed early
Libby was 13 days old when she was diagnosed with the disease at Wichita's Wesley Medical Center. Robin said from the start it was apparent something wasn't right. The early diagnosis was fortunate because without a quick adherence to dietary discipline the consequences are often retardation or death.
With the early diagnosis and diet regime, Libby enjoyed something of a normal childhood. She attended school, overcoming general fatigue from her impaired metabolic system and a depressed immune system that led to frequent bouts with colds and flu.
"She would miss school a lot," her mother said. "She always maintained very good grades, but she always pushed herself. It was always a strain on her."
The increasing strain forced Libby to withdraw from activities she enjoyed in younger years, including the basketball she played in middle school.
"As I got older, my energy level decreased," she said. "My freshman year, I decided I had to give it up."
That's Libby and her family's concern. Those with MSUD do worse as they mature and there are few survivors beyond the age of 30, her father, Alan, said.
Libby weighs 112 pounds now. Fighting colds and flu last winter, she dropped to 100 pounds. Robin said the loss of effectiveness over time of different formulas also contributed to Libby's struggle to maintain weight.
That uncertain future has landed Libby on the list for a new liver that will be able to process the amino acids her liver can't. And Alan explained it must be a complete liver, not the section that suffices for some liver transplant recipients.
With the transplant, Libby's liver could in turn save a life.
"It's a perfectly good liver," she said. "It will work fine in someone else if they don't have that missing gene."
Libby and her parents are now waiting for a phone call telling them to rush to Pittsburgh, Pa., for the liver transplant.
"It could come tomorrow or in four months -- we don't know," Robin said.
She does know that when the call comes, she and Libby will have six hours to make it to Children's Hospital of Pittsburgh, which she calculates leaves them about two-and-a-half to three hours of flight time.
"I've inquired about chartered jets," she said. "They start at about $10,000. My main concern is there have been some instances where families have went all the way up there, prepped the child for surgery, and they come in and say, 'I'm sorry, but this liver isn't going to work.'
"In that case, we would have to flush that $10,000 down the toilet and come up with another $10,000."
To avoid that, she has been trying to find an individual, organization or corporation with a private jet available for their use, Robin said. It is a search she admitted is made harder because of the uncertainty of when the call may come.
The transplant will require Libby to stay in the hospital for two weeks and in Pittsburgh for another six to seven weeks for daily tests to ensure she isn't rejecting her new liver. Robin said she intended to stay with her during that time.
Fund started
Insurance will cover most of the medical expenses but not the airfare and lodging. To help the family with its expenses, a fund, Liver for Libby, has been established at FCB Bank in De Soto, said De Soto High School counselor Cindy Crabtree.
The De Soto High School Student Council is also planning a number of activities to help the recent graduate, Crabtree said. Those who would like to donate to those efforts can call her at (913) 583-8370.
Alan said the family realizes Libby will face challenges.
"She'll have to stay on anti-rejection drugs," he said. "It's a trade off. The most positive thing is she won't have MSUD anymore with the questions of longevity past 30.
"People are and have been living a long time with heart, kidney and liver transplants."
It is his view that God has a plan for his bright, caring and persistent daughter, Alan said. He sees that in her goal of eventually becoming a dietician at a children's metabolic center.
From Libby's stay in a children's ICU, she and her parents realize youngsters are forced to endure greater suffering.
"There's a lot worse," Libby said. "I'm very, very lucky in a lot of ways."
Still, Libby said she knew she could have a better life.
"I'm a nervous wreck," she said. "I'm excited though. I just have a shot at a normal life with this liver transplant, and I want to take it."
More like this story