Championing companionship
Thinking the widow of two years needed to get out more, Maxine Klamm's neighbor Elvina Kroemer urged her to apply to be the director of the De Soto Senior Center.
Klamm was hired last February to replace longtime director Mary Bichelmeyer Dikeman. With that, she is now dispensing the same tonic for loneliness her neighbor sought for her.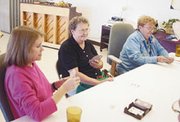 "You know some people don't have anyone," she said. "Just a few kind words once a day means so much to them."
Klamm said she had a background in food service for seniors, having worked at Cedar Crest Nursing Home (since refurbished to Hillside Village) and other nursing homes.
In addition to on-site and home-delivered weekday meals, the center offers senior chair exercise classes, occasional bus outings and periodic health screenings.
But perhaps the most important thing is the companionship wrapped up in planned activities and less structured forms of camaraderie, such as the daily card games.
Longtime regulars at the center said Klamm was the right person for the job.
"She's doing fine," said Katherine Neis of Eudora. "Mary couldn't do any better."
"She's good," Welda Schultz said.
The good times in the afternoon get everyone energized, volunteer Kathy Hayden said, imitating the Energizer bunny.
"They do get a little wild," Klamm retorted.
Although she responded to her neighbor's request to apply for the job, Klamm said she wasn't lonely. She visited regularly with friends and family and took a one-day a week art class.
As proof she gets a lot from the class regardless of how tired she might be, Klamm produced a lifelike pencil drawing of her great-grandson.
"It's supposed to be good for the brain," she said.