Missouri recognizes De Soto vet after 50 years
Getting two patriotic service awards and a medal doesn't faze Herb Wood. But getting an honorary certificate for his late wife, Barbara, brings tears to his eyes.
"That was really special," Wood said, after accepting the award for his wife of 54 years. "I didn't expect that."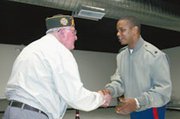 Wood, De Soto's biggest cheerleader for the Veterans of Foreign Wars, is about 50 years late in getting his own service awards from his home state of Missouri. Wood served in both World War II and the Korean War as a Marine sergeant.
On Friday, Wood received the Korean War Service Medal, the Award for Patriotic Service in Korea and the Award for Patriotic Service during World War II. He received a letter from Missouri Governor Matt Blunt honoring his service since he was a Missouri resident when he entered the military at age 16 in 1945.
"My mother lied for me," he said. "Back then, every boy wanted to be in the military."
Blunt's letter thanked Wood for his years of service many years ago.
"Europe, Japan and much of the Pacific are free today because of what you and your comrades in arms did over half a century ago," Blunt wrote.
Glenda Bull, wife of the late Richard Bull, also received an honorary certificate of service in her husband's memory.
Wood said many states are offering retroactive honors to veterans, and he hoped that Kansas would do the same. Although veterans who serve in Kansas can earn honors from the national government, he said the state government hasn't been so involved.
"Kansas has never done anything like this," he said of his accolades. "To me, these medals are no big deal -- they can make them by the million. I'm not doing this for myself. I want Kansas to pay more attention to honoring veterans. Back in World War I, Kansas counties gave medals, but Kansas has never done anything since."
Although Wood served in overseas battles such as Okinawa and the Chosin Reservoir and spent nine years in the service, De Soto residents say his leadership after the battle has also been important. De Soto's VFW is typically filled with veterans old and young, welcomed by leaderssuch as Wood who work tirelessly to make sure their service is not forgotten.
"Herb's quite a hero to us here," auxiliary member Nancy Hinton said. "I have to tell him that every time I see him. We wouldn't be the same at the VFW without him."
His late wife, Barbara, who died one year ago, was also involved in honoring military service members in De Soto and served as a member of the ladies auxiliary for many years.
Wood's projects are numerous throughout De Soto and include a planned memorial in front of the VFW post with names of honored veterans on each brick. When finished with the memorial in De Soto, he wants to build one in Eudora.
Wood also started Boy Scout Troop 351 in the Monticello area, which now has 95 kids. The VFW supports Toys for Tots and helps gather donations for programs that provide medical and financial help to veterans.
He and 300 Marines will gather Nov. 10 at the Lenexa Police Department to celebrate the founding day of the United States Marines.
Wood said any veteran, old or young, male or female, was more than welcome to visit the VFW.
"We take good care of them," he said. "They can't buy a beer here."
Wood said it's important for the state of Kansas to honor veterans before they're gone.
"Most of the old World War II vets are gone now," he said. "They've died of old age."
More like this story