De Soto bank changes hands
De Soto's oldest bank has sold for the second time in less than two years.
It was announced Monday that Great American Bank of De Soto was purchased by Enterprise Financial Services Corporation. The purchase includes $202 million in Clayco Banc Corporation (Great American Bank's parent company) assets, which include a branch in Claycomo, Mo., and the two branches it was building in Platte County and Raymore.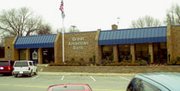 Arlen Gabriel and the Gabriel family owned De Soto State Bank for 55 years before Great American bought the bank in 2005.
Great American President Jeff Kieffer said he and his partner, Great American Chairman Mike Balsbaugh, had a number of offers to sell the bank over the years. They agreed to the Enterprise overture because of shared values and management styles, Kieffer said.
"If you look at their record and stock over time, they are a great company to invest in," Kieffer said of the publicly traded Enterprise. "Enterprise has a whole suite of banks -- even over what we do. They have a strong management team that fits very well with what we do.
"It doesn't change anything in De Soto. Arlen will still be here; the employees will still be here."
Great American and Enterprise also share a growth approach to the banking business, Kieffer said. That is illustrated in the partners' purchase of De Soto State Bank after starting the Claycomo bank in 1973 and the decision to add the two planned branches, he said.
In July, Enterprise purchased NorthStar on the Missouri side, converting four of its five branches into Enterprise Bank.
"We remain very bullish on the Kansas City market for our special brand of banking and wealth management services," Enterprise President and CEO Kevin Eichner was quoted in a press release announcing the sale. "Our initial plans for expanding in Kansas City called for us to triple our market position by acquiring an institution in the $400 to $500 million range. We have accomplished this objective in two steps rather than one."
The acquisition of NorthStar and Great American will give Enterprise 10 branches in the metropolitan area. Because some of the branches overlap, there would be some consolidation, it was announced.
But Kieffer said that didn't pertain to the De Soto branch.
"There is nothing that overlaps here," he said. "They have nothing on this side of Johnson County. It would not be a candidate for consolidation."
He and Balsbaugh remained high on the De Soto community's growth potential as did officials with Enterprise, Kieffer said.
The sale would probably mean he and Balsbaugh would relocate to Enterprise's Kansas City headquarters in Overland Park. Kieffer is to become Enterprise's senior vice president for Kansas City, and Balsbaugh will be the bank's senior vice president for commercial real estate lending for Kansas City.
Balsbaugh said it wasn't known when that move would take place. Enterprise shareholders and regulators must approve the sale.
The announced amount of the purchase was $37 million.