A change of pace
By swapping her basketball high-tops for a pair of running shoes,
The obvious advantage is the endurance. De Soto senior Kira Gonzalez has played basketball nearly all of her life -- in traveling leagues during the summer, in a gym with anyone she can find through the fall, and on the school team in the winter.
After starting for the De Soto varsity girls basketball team for the first three seasons of her high school career, Gonzalez was surely in shape in August when the 2006-2007 school year kicked off.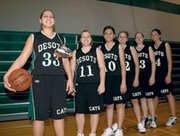 She's in better shape now after running her first season on the cross country team.
The obvious advantage, again, the endurance.
But Gonzalez didn't join just any team, and she didn't take part in just any season. While she said she never intended for her foray onto the trail to be anything more than a basketball work-up, De Soto's most experienced returning hoopster got a lot more than she bargained for as a member of De Soto's state champion girls cross country team.
"It was one of the hardest things I've ever done," Gonzalez said. "It helped a lot. I was really nervous going into it because I had never run cross country before, but everyone was really nice and the team was really close."
It wasn't the individual lessons that seemed to most affect the 5-foot-6 guard.
Sure there were plenty of those. She said she never knew she could run the four kilometers that make up a cross country race, and she never ever thought she'd live to utter the phrase "We ran four miles in practices and three miles on an easy day," as she did Monday when asked about her experiences.
It all amounted to, of course, more endurance.
But one need look no further than the photo shoot that followed up Monday's interview to see some of the other lessons that Gonzalez picked up in her three-month running career.
She said as individual of a sport as cross country is, and as alone as one can feel on the far side of a long course, she learned about being a teammate.
She learned there's nothing like a dose of encouragement when it doesn't seem another step is possible, and that a few words from a fellow teammate during a competition can be almost priceless.
She said those are the ideals that helped De Soto's runners capture their first state title, and those are the ideals she hopes can help this season's basketball squad.
She started things off by insisting her fellow seniors join her in a photo.
"Everyone encouraged everyone," Gonzalez said of the cross country team. "I've never been in an atmosphere like that. I've always had strong team bonds, but they were all great.
"Originally I didn't want to be on the team -- I just wanted to train with them over the summer, but I ended up on the team. It helped not just physically, but mentally, to cheer everyone on. It really makes a big difference when you're running. You want to run faster."
Gonzalez ran track as a junior high student, competing in the 800- and 400-meter runs. While she was good enough to catch the eye of Wildcat cross country coach Chris McAfee, she never considered going out for the sport.
Instead, she spent the months between the end of the summer basketball leagues and camps and the start of winter practice lifting weights, running stairs and scrimmaging against anyone she could find -- usually a group of older boys players who also had opted out of fall sports.
After earning all-league softball honors for the second-straight spring, she said she finally gave into a wave of advice, and ditched fall conditioning to join the cross country team.
Once there, McAfee took over.
"Our initial intent was to do things different, but as we got into it, we felt the things we were doing in practice were helpful for basketball, too," McAfee said. "I thought maybe as we went toward the end of the season we'd break her off and have her doing more change of pace stuff to simulate what she'd be doing during basketball season, but we were doing things that were fairly similar.
"I knew one of her weaknesses was that she would get winded, and I think we were able to help her with that."
Gonzalez logged one varsity race and earned a letter. She also went along as an alternate as the team captured second at league, and first at regionals and state.
She climbed up on the medal stand to help accept the team's monster trophy, but it was just a trinket, she said, when stacked next to the lessons and the memories she never expected to compile.
Oh, and running the miles and miles every day from August to November, that helped her endurance, too.
"I think endurance has been an issue with her. She's always had asthma, and cross country really helped her," girls basketball coach Dwight Spencer said. "You're going to see a huge difference in her this year. She's not ever going to have to come off the floor for being tired."
More Gonzalez can only be a good thing for De Soto. The senior was second on the team in both points and rebounds a year ago, her third season as a starter. She's been a leader in the past and was the team's captain last year.
Thanks to a fall filled with long strides across an empty trail, with encouraging words from comforting teammates and with the chase and capture of a state championship, Gonzalez said she's ready to shoulder that responsibility again, and now she's prepared to take on even more.
"I found out more about my body, about how much I can push myself. I feel good about myself and I feel strong going into the season," Gonzalez said. "I'm surprised I made it through, especially how far I made it. I never thought I'd run in a varsity meet, but I ran in one.
"Especially when the team won state, that was an honor for me. I never expected to be there, and I enjoyed it a lot."