It's not just replacing the victories. Really, who would even think about that?
Replacing the uber-successful Neil Erisman on De Soto's wrestling mat will be about trying to find someone else to wrestle at his weight or represent the Wildcats at the state tournament.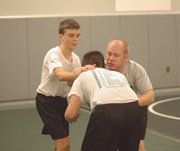 But the most important aspect of the biggest change in the last four years of De Soto wrestling will be trying to replace the leadership and the lessons of one of the most successful individuals in Wildcat grappling history.
"You don't replace a kid like Neil. You don't replace his talent. You don't replace his leadership and you don't replace having him around," De Soto coach Matt Jones said. "The kids have a goal now. We've had a state champion now. Neil's on wrestling at Oklahoma State and the kids see that, so it gives them something to try for."
Life officially began anew for the De Soto wrestling program when practice started Nov. 13. The Cats began practicing without Erisman, last year's 171 pound Class 4A state champ, for the first time in four years -- so far, so good, coach Matt Jones said.
"We have a lot of young kids this year -- three juniors, no seniors and the rest are freshmen and sophomores," Jones said. "We're young, but they're probably the hardest working group we've had so far. What they lack in experience, they make up for in effort and intensity."
Filling in the wins will be impossible, Jones said, but for the leadership, he's turned to a pair of upperclassmen. Eric Buffkin and Tom Beaver were selected as the squads captains, and in them Jones says he has the building blocks for the post-Erisman program.
With the one notable exception, De Soto was an incredibly young team a year ago, and that hasn't changed. The Cat lineup is still dominated by freshmen and sophomores, and it unfortunately still lacks much varsity experience.
Erisman was the only Cat to qualify from the regional and advance to state, but the other three wrestlers that enjoyed the most success didn't return to the squad.
Jones said that doesn't make the 2006-2007 season a repeat of 2005-2006, however. The coaching staff spent a lot of time reviewing the true basics of wrestling last year, Jones said. While this year's team is young, there has already been a wrestling foundation laid.
"At the beginning of the year, it's always the coaches doing the teaching, but our two captains are both juniors. They're both very responsible and they'll be great leaders," Jones said. "We have kids this year coming in that have wrestled before, so that's something we haven't had.
"It's still a couple years away, but our freshman class is solid and we now have middle school wrestling, so that helps."
The Wildcats start their season with a Dec. 2 trip to Wamego, then return close to home a week later for a Dec. 8-9 tournament in Eudora.
The team will participate in the Johnson County tournament later in December, travel to Burlington in early January, then host Wellsville and Osawatomie Jan. 18 in the only home action of the season.
A major test awaits Jan. 27 at the Baldwin Invitational, and two weeks later the Cats hit the road one last time for the trio of season-ending tournaments -- league, regionals and state.
That's all a long way off, Jones said. Now, he's plenty happy concentrating on the team's first trip, the Wamego meet.
"The first tournament is always nice. There's teams that will be our speed and some teams that will be state caliber, so it'll be nice to see a little bit of everything," Jones said. "It's a dual tournament so all the kids get to wrestle four or five matches and it will really show me where we're at and what we need to do."
More like this story