Antique tractor enthusiasts make short work of West Bottoms field
As about 20 tractors Saturday plowed the 145 acres their family farms in De Soto's West Bottoms, Bobby and Michelle Gabriel laughed off any comparisons to Tom Sawyer.
Unlike Mark Twain's fictional hero, they did not have to convince those hard at work that what they were doing was fun, the Gabriels said.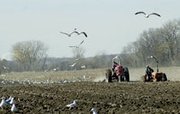 "They were supposed to start at 10 this morning, but when I got here at 9 to start preparing lunch some of them were already in the field," Michelle said. "They just had to get out there.
"Men and their toys."
Antique tractor collectors and restorers from as far away as 200 miles distance came to the Kansas River bottomland Saturday for the chance for which they were designed and built. The tractors of 40 to 70 years vintage were at the field for a plow day. The activity was as much a part of the past as the tractors as plowing has been largely given up to chiseling or disking, which helps to prevent soil erosion.
Bobby Gabriel said had he not invited the antique tractor enthusiasts to the field, he would have made short work of the field with a 30-disk implement pulled behind his four-wheel drive Steiger.
But, he admitted the tractors were doing a good job with the one- to four-bottom plows they were using to turn over the rich bottomland soil.
"It looks like we're going to get this 140 acres whipped out today," he said. "A lot of people have antique tractors, so we try to do this once a year."
The gesture is appreciated, said Greg Coker of Lawrence.
"It's kind of tough finding a farmer to put them on because most are farming no-till now," he said. "This is a good place to do it."
Coker brought a 1935 W-40 McCormick-Deering to the plow day. Coker, the president of the Kansas International-Harvest collectors club and the grandson of an International dealer, explained McCormick-Deering later became International, which made the Farmall tractors.
Coker was pulled a five-bottom plow through the sandy soil of the West Bottom with his 70-year-old 40-horsepower tractor with steel lugs on the rear.
"It's pretty easy going," he said. "Everybody asks, 'Is it rough riding with those steel wheels?' You get out there in that soft dirt, it's like being in a car going down the highway."
As he parked his 1935 Twin City JT on a flatbed trailer, Ryan Runnebaum of Berryton, said the old tractor had performed well.
"I was pulling in third gear," he said.
He and his son, Richard, brought three tractors to the plow day, Runnebaum said. His son was in the field with a 1956 Farmall, and on a nearby trailer was a spotless 1950s White Farmall.
"That one's just for show today," Runnebaum said.
Runnebaum, who belongs to Coker's club, said some of its members were farmers while some now live in towns and cities after growing up on the farm. All love the old machines and the chance to get them in the field, he said.