USD

232 voters narrowly reject bond issue
With 100 percent of the precincts reporting, De Soto USD 232 schools won't be taking out a $105.7 million bond issue -- at least not for now.
Even as those for and against the bond proposal digested unofficial results showing the bond issue was defeated by a mere 81 votes, they agreed a new bond issue must pass eventually to address the growth of 300 to 400 students each year in the district.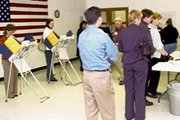 "We've utilized all the nooks and crannies to keep class sizes down," Superintendent Sharon Zoellner said. "We have no options at this point."
Zoellner said the board would have to go back and look at new proposals to decide how to address the overcrowding issue.
The news of the bond defeat was met with surprise by board member Randy Johnson, who announced his opposition to the bond after voting to put it on the ballot.
"I'm really pleased with the outcome," he said. "I'm almost at awe of what happened here. When you look at rooftops, this thing should have gone through with flying colors."
Johnson said he spent about $2,500 on ads against the bond issue, and questioned at Monday's board meeting why the district spent about $3,400 at Shawnee Copy Center on fliers informing voters about the bond issue. Other board members agreed to pay the bill, while Johnson voted against doing so.
Johnson said Tuesday's vote showed there were more concerns about the district's finances and bidding habits. He said he was ready to work with other board members and administration to craft a new bond proposal, agreeing that students will need more classroom space.
Vote Yes Committee member Vicky Needham said she agreed the election was against the bond.
"Eighty-one votes is a small margin, but a loss is a loss, and I'm afraid there are some decisions the school board will have to make now that people are really not going to be happy with."
Needham said precinct numbers showed a higher than expected turnout of voters in the city of De Soto, which historically has voted against bond elections.
She said that the Yes group -- mostly very active parents and even a few De Soto schoolchildren -- would be back to support the next bond. The group even planned to pull up "Vote Yes" signs -- ones purchased for previous bond elections -- and use them again for another bond election to save money.
"We're for ed for kids, and we will always work to make sure that our children are offered a quality education," she said. "This is a temporary setback."
About 9,555 voters cast ballots Tuesday with 4,818 'no' votes and 4,737 'yes' votes. The Johnson County Election Office Board of Canvassers will officially canvass the votes on Friday.