Council approves transit service funding
With the action of the De Soto City Council last Thursday, two-day-a-week bus transit service could be available in De Soto in little more than a month.
The council approved a 2006 subsidy to the transit program of $2,640. That represents 15 percent of the program's cost.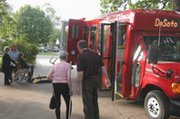 Johnson County Transit secured a federal grant for the next two years that would provide 70 percent of the De Soto transit systems cost, Johnson County Transit coordinator Lauri Henry said. The grant is available for rural communities, meaning De Soto woul not have a great deal of competition for the money, she said.
The city has looked for private interests to help with the rest of the match, De Soto city planner Kim Gordanier said.
A representative of one of those, Jim Courtney of the Mr. Goodcents Foundation, attended the meeting and rode along on a demonstration bus trip before the meeting. Mr. Goodcents supports the Johnson County Transit's EasyRide Program for northeast county cities, which provided the model for FlexRide.
The De Soto program would provide "deviated fixed route service" from 10:30 a.m. to 3 p.m. Tuesdays and Wednesdays, Gordanier said. That means it would have regular transit stops but also provide curb-to-curb service for seniors, the disabled or others unable to walk to stops like City Hall, the library, Clearview City and local apartment complexes and retirement centers.
To schedule a ride, residents would call a toll-free number to Johnson County Transit. The pilot program will not have a fee but donations will be accepted.
The service was developed by a committee Mayor Dave Anderson appointed that was headed by Diana Zwahlen and included Gordanier, City Councilwoman Betty Cannon, Courtney, De Soto USD 232 planner Jack Deyoe, De Soto Multi-Service Center coordinator Jodi Hitchcock, Archie Bedford, De Soto Chamber of Commerce director Sara Ritter and Charley Vogt of Country Club Bank.
It was the local input in the design that separated the FlexRide Program from earlier failed transit attempts in De Soto, Henry said.
The committee used a survey to develop a service that would serve local needs, Henry said. And the committee would stay in place to adjust the service if need be, she said.
The goal is to start the service the first week of July, Anderson said.
More like this story