Wildcats thrive against area's best
It wasn't the biggest event De Soto athletes have taken part in this season, and it by no means will be the biggest they see as the 2006 campaign winds down.
Still, the Shawnee Mission North Relays -- held at Shawnee Mission South because of SM North's stadium construction -- were a big deal and the meet was stocked with top Class 5A and 6A talent.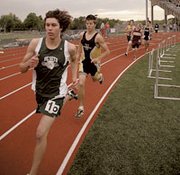 De Soto did pretty good, and that's a welcome sign, coach Chris McAfee said.
"The kids did awesome," he said. "The kids we took over there did very well."
Only a select grouping of Wildcats made the trip, but those that went shined. Jackie Goleman placed third in the 300-meter hurdles. Luke Krehbiel was seventh in the same event, earning a personal best time of 41.7 seconds.
"Jackie had a solid day and Luke ran very well in the 300s," coach Brian Dinkel said. "That was really good to see, especially at this time of the year."
A number of other competitors distinguished themselves, even if they didn't rack up points. Morgan Frehe broke the 12 minute mark in the 3,200, coming in at 11:59 and Adam Justice was fourth in the 1,600. A fast race with some of the state's best, he was gaining, and fell just short of third.
"He ran really well. He ran really smart," McAfee said. "It was boom, boom boom for second, third and fourth. If he had another five meters he would have caught third place."
Christina Davis and Amber Topf each had personal bests in the shot put, Topf earning seventh place with a throw of 35 feet, 1 inch and Davis coming in at 32-6.
"We had a pretty solid meet. We didn't do anything outstanding, but we competed well and it was a pretty big stage," Dinkel said. "There was some really good competition there."
While the Frontier League track meet, held Thursday at Paola, shouldn't have the depth or star power of the Shawnee Mission North Relays, there will still be plenty of competition McAfee said, and De Soto will be looking to assert itself the week before heading to regionals.
"I think Friday's meet was a nice confidence boost," McAfee said. "Now it'll be tough."