Teen's request spurs home makeover
Her voice straining Monday to be heard above an elevator lifting bundles of shingles to the roof of her Delaware Street home, Majel Richmond marveled at the generosity of the De Soto community.
"This town is the greatest," she said. "It's a small town with big people. I won't hear anything against this town."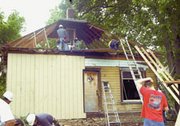 As a single mother with two children in the home and another in college, she's had difficult times, Richmond acknowledged. Recently, she had to pay $7,000 in back taxes on the home just before the March hailstorm left the house in the same condition as many others in De Soto.
"The storm busted up my roof; my bankroll was gone," she said.
With that, thunderstorms meant moving multiple buckets in a futile attempt to catch the rain, Richmond said. It was a bad situation, but Richmond remained hopeful.
"Rev. (Richard) Copeland said, 'It's in God's hands,'" she said. "God takes care of birds, why wouldn't he take care of me?"
If that's the case, God's deliverance came in the form of Cavan Crowley, whose daughter Katie is a senior at De Soto High School with Richmond's daughter Megan Gardner. Knowing her friend's father was a contractor, Megan asked if Crowley could help with the leak and possibly get a better price on the work.
"I came over to look at it, and you can see what happened," Crowley said Saturday.
After determining the house was in need of more extensive repairs, Crowley, who owns Richard Crowley Construction, started "networking." Among the first in that web of volunteer contractors was house framer Jose Espinoza.
"I came to start looking at it and said, 'Let's take it all out,'" Espinoza said.
A crew of Espinoza's framers were busy Saturday doing just that -- tearing off the shingles, sheathing and rafters in preparation to putting a new roof on the house. Those in the crew not on the roof were installing new siding or removing 100-year-old doors and windows for replacement with new energy efficient ones.
When an unexpected problem slowed progress, Espinoza paid his crew to finish the job Sunday.
Once the networking effort got started, Crowley was able to line up more volunteers and donors. The home is to get a new front porch, sidewalks, driveway and landscaping, he said.
Part of networking is knowing who can cast a bigger net, and Crowley found that man in city of De Soto building and codes inspector Steve Chick.
"I was at the end of my rope when I called Steve," Crowley said. "He made more things happen."
As Joe Rawie pulled up Saturday with a dump truck to remove roof debris, Chick said he had called the asphalt contractor.
"I knew he would get involved," he said. "But nobody has really said 'no.'"
At Chick's request, the De Soto City Council agreed last Thursday to forego permit fees for the work on the house.
Richmond said she viewed the project as a community graduation present for her daughter Megan. The community knows and respects her children from oldest son Danny Gardner, who will leave Neosho County Community College in Chanute with an academic and track scholarship to Baker University next fall; Megan, who will attend Emporia State University next fall with a goal of teaching special education or kindergarten; and 10-year-old Kimberly.
More than the rebuilt house, her children were a tribute to the caring nature of De Soto, Richmond said.
"Everybody knows my kids," she said. "Everybody in town knows where kids belong and looks after them.
"I have great kids. This town helped raise my kids."
The contractors' generosity didn't stop with home improvements. Espinoza donated $1,000 to Megan's college fund. When a retailer agreed to provide paint for the house, Rawie agreed the $300 he had made available for that purpose could instead be used by Megan to prepare for her May 20 graduation.
The response to her request was a little overwhelming, Megan said, explaining her feelings of awe went beyond the weekend physical transformation of her family's circumstances.
"You rarely meet those good people who do those things for you," she said. "It's just good people in the world. They just happened to come by me, I guess.
"My little sister is very happy with it. I'm very pleased."
She's also pleased that the improvements to her family home could become a model for other home assistance projects in De Soto. Chick said he would he planned to put together a program that could assist one to three De Soto homes a year.
"There is no problem with materials," he said. "Contractors want to give back to the community."