Sugary soft drinks lose welcome at
DHS
Even before the nation's soft drink industry agreed last week to expel sugary drinks from the nation's schools, students in his school were making healthier choices, De Soto High School principal Dave Morford said.
"For our school, it's about giving them a healthy choice," he said. "It looks like nationally, they're wanting to phase out pop."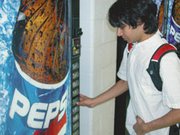 Last week, the William J. Clinton Foundation and the American Heart Association announced they had reached an agreement with Cadbury Schweppes, Coca-Cola, PepsiCo and the American Beverage Association to limit high-calorie drinks available to children in school.
According to a press release issued by the Clinton Foundation, the plan would cap the number of calories for each drink at 100 calories per container, except for certain milks and juices. The agreement would spread to 75 percent of schools nationwide beginning in 2008. At least half of available beverages in high schools will be water, no calorie and low-calorie selections.
While none of De Soto USD 232's elementary schools have pop machines available for students, De Soto High School and Lexington Trails Middle School and Mill Valley High School do have vending machines under contract with Pepsi.
Morford said De Soto High School added juice and milk vending machines this year, which he said were just as popular as the soda pop machines.
"Those things have sold pretty well," he said. "I think our students are making some choices that way. There are still some who like to drink pop."
According to federal guidelines, school lunch programs can't receive funding unless pop machines in the cafeteria are turned off at lunchtime. But Morford said the pop machines also have diet drinks and water choices, not just the high-calorie, non-diet choices.
The vending machines are also a source of revenue for student activities. Morford said the milk and juice machines would still be used for that purpose, but he was not sure if the dollar amounts would change.
"I'm sure it will have some type of affect, but we won't know until we have an opportunity to sit down with the vendors," he said. "They've helped out with purchasing scoreboards in the past, and they give us money that we use to do a lot of different things with. We don't know if they're going to continue with that or not."
Diane Smith, director of food services for the Shawnee Mission district, said the schools have already adopted a policy to offer healthier choices at the school. At the Shawnee Mission district, administrators said when the company voluntarily reduced the number of high-calorie drinks available in vending machines, its sales dropped.
While that may be great news for student health, administrators aren't sure what it will mean for student activity funds.
Officials with De Soto and Shawnee Mission districts said they use the money from vending machine contracts for one-time expenses so the school's budget doesn't depend on the money.
"In instances when you have big-ticket items, a lot of times they'll help out," Morford said.
Bonner Springs Superintendent Robert Van Maren said the district receives about $20,000 a year for pop vending machine contracts. The current contract has about 15 months left, he said.
Both Bonner Springs and Basehor also comply with federal regulations to turn off pop machines during lunch and sometimes even during classes. Van Maren said he wasn't convinced the new regulations would force students to make healthier choices.
"The kids will buy whatever's there," he said. "I think it's a good thing especially for elementary kids, but if the high school kids want sugar, they'll buy it on the way to school."