Regional ready?
De Soto doesn't want its win over Mill Valley to be the season's highlight
The De Soto soccer team -- neither players nor coach -- tried to deny it a week ago.
And Tuesday, despite a pair of disappointing losses that capped a two-week long end-of-the-regular season slide, Wildcat coach Darren Erpelding still couldn't deny it.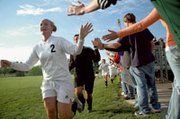 Erpelding stopped and his face lightened. He smiled, forgetting that only moments before his team had had its league-title dreams ripped from its hands via a controversial Kansas City Christian overtime goal.
"It was awesome," he said of Thursday's 1-0 win over the intra-district rival, Mill Valley. "It wasn't our best game of the season, but it was the best feeling."
Wildcat goalie Megen Bedford weathered a furious storm from the Jaguars as De Soto was outshot 21-7, but the Cats didn't crack. The Wildcats' defense was at its best and Julie Bray scored the game's only goal, knocking in the rebound off a Danielle Price direct kick.
"Mill Valley might have controlled the game and taken more shots, but what matters is the 1-0 score," Erpelding said. "I thought we outplayed them. We wanted that game extremely bad."
Unfortunately for De Soto, what Erpelding defined as the highlight of the nearly two-year old program's existence, was the only highlight of the week.
De Soto was first shutdown in an embarrassing 7-0 loss to Blue Valley, then tossed out with a heartbreaking 2-1 stumble against KCC.
Blue Valley broke open a lead with the game's first goal nearly eight minutes before halftime. It would score three more times before the teams reached that break, however, and the Cats offered little resistance in a listless second half.
De Soto also came out slow against Christian, but Danielle Radcliffe scored in the second half to tie the game, 1-1, but KCC's Sam Pool managed to break free, avoid an offsides call and plug in the deciding goal early in the first overtime period.
"We didn't play terrible," Erpelding said. "I wouldn't say they controlled us in the first half, but they got the better of us. In the second half, we dominated and controlled the game. We took it right at them."
While Pool was responsible for both KCC's goals, Erpelding said it was only by lassoing her through much of the first and second periods that De Soto was able to stay in the game.
Katie Beck, pushed back to offer defensive help early in April, played perhaps her best game, tailing Pool and matching up one-on-one throughout the game.
"We took their best player out of the game and they were kind of lost without her," he said. "Katie Beck marked her up. Every time she played a ball, Katie was all over her. She did an awesome job."
Now, it's all about looking forward, Erpelding said. The team's goals before the season included compiling 12 wins and winning a regional championship. While 12 wins may elude this year's squad, the regional title is still a possibility, he said.
"They're definitely disappointed. They wanted this thing really bad. They wanted to win the league title in our second year," he said. "We're hopefully going to be able to turn it into a motivating factor the rest of the way."
De Soto won't know the details of its regional fate until Saturday, but Erpelding speculated on the team's Web site that a home date against Lansing may await. No matter the opponent, the game will be Tuesday.
More like this story