Fate catches up to Cats
De Soto drops a pair of late-inning thrillers
It had to happen. Living by the seat of their pants, staying alive, then winning games in the seventh inning -- it could only work for so long.
Time finally ran out on the De Soto baseball team (13-7) as the squad began its week with a loss to Gardner Edgerton and finished it with a pair of doubleheader losses to Kansas Highway 10 rival Eudora.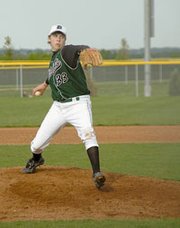 Now the Wildcats must regroup and prepare to see what they have learned over the last year. The Cats face Atchison (7-11) Monday at noon in the first round of the regional tournament at the Kansas City T-Bone's home park, Community America Ballpark.
"I feel like we're close," De Soto coach Steve Deghand said. "Are we playing the best baseball of the season right now? Maybe not, but we're still in position to score people. We still have a chance to win ballgames and if we can just fight through that, anything can happen in a single-elimination tournament."
De Soto dropped a pair to league champion Eudora, but it didn't do so without a fight. Eudora wrapped up sole possession of the Frontier League championship early in Tuesday's first game.
Taylor Burnett got into trouble in the second inning and the Cardinals were able to bat around, scoring six runs.
Brady Maasen came in to relieve Burnett, and avoided much more bloodshed, but the damage was done and the Cats fell, 8-1.
De Soto had a much better chance in the second game. Eudora again got an early lead, scoring two runs in the first, but Deghand found a unique way to motivate his team.
After four innings of lifeless baseball from the Cats, he ran out of the dugout and tossed the team's supply of bats, yelling to try and fire up his team.
Perhaps more at home in a movie, yes, and no doubt unconventional, it worked, at least for a while.
Dustin Grimes led the inning off by getting aboard with an error. Colby Childers earned a walk and Jerod Bader scored De Soto's first run with a hard groundball single right at the shortstop.
Eudora switched pitchers, but Tyler Farmer kept the momentum going by lining an RBI single in to leftfield.
"Maybe I'll do that more often," Deghand said of the unorthodox pep talk.
Farmer, who started the game for De Soto, kept out of trouble after the first inning, but he would find no more run support from his team.
The Cats got something going in the top of the seventh when Travis Crow was hit by a pitch, but the Cardinals wrecked an attempted sacrifice bunt and De Soto couldn't take advantage of a Farmer two-out single.
Eudora then secured its 19th win of the season -- the Cardinals have lost just once -- moments later when Matthew Abel executed a suicide squeeze with the bases loaded to score the tie-breaking run.
"We had a lot of opportunities," Deghand said. "Tyler threw a great game. After the second inning of that first game, it's 4-3 in the remainder of those two games."
More like this story