Wildcats cruise to pair of opening day wins
It was flat out cold Monday-- not all day, but the sun was long gone, and warm nights are rare in March. The fans were bundled up tight, the few sporting De Soto green bracing their backs against the breeze.
Still, the Wildcats wouldn't stop.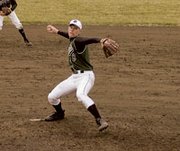 The Cats breezed through the first game, run-ruling Wellsville in five innings in the season opener, 10-0. The result was bound to be the same in the second game. After four innings, De Soto was comfortably ahead, again. Pitcher Tyler Farmer had given up just one run through four innings and was in line for what was sure to be his first win of the 2006 season.
The Cats led 12-1.
But they wouldn't stop.
De Soto scored 10 runs, pounding out hit after hit, taking base after base on Eagle errors, and blowing an already lopsided game into a 22-1 rout.
The Wildcats (2-0) made several base running mistakes. The pitchers were good, not perfect. The offense was powerful yet sporadic, but after the last out was finally recorded, the Cats were happy with it all.
"We weren't really crisp," Wildcat coach Steve Deghand said. "I know it's hard to be crisp when it's crisp out, but we came here, we won 32-1, so I guess you can't be too upset."
Taylor Burnett led De Soto from the mound in the first game, and while he was obviously effective -- he tossed a shutout -- Deghand saw both room for improvement and reason to feel confident.
Burnett went five innings and recorded nine strikeouts while giving up just two hits. He surrendered six walks, however, which left him working with running on the bags through several innings.
"He threw a lot better when guys were in scoring position," Deghand said. "That's good, but the flip side of that is the only way those guys got into scoring position was because he walked them.
"That's something we have to work on, but he did buckle down when he had to, so that's good."
Offensively, the Cats didn't explode as they did late in the second game, but Riley Pierce led an efficient effort with three hits, a sacrifice fly and three RBIs.
Austin DeGraeve and Travis Crow were each two-for-two, with a walk and an RBI.
Farmer went just four innings in the second game -- the long layoff through De Soto's 10-run fifth ended any hope of him coming back out on the chilly evening -- and was effective, notching seven strikeouts while allowing just two base runners, one on a hit and one on a walk.
Dustin Grimes had three hits, including two doubles, and three RBIs and DeGraeve went four-for-four, walking once. Aaron Hansen also reached base on every plate appearance.
"Offensively, we were really sporadic," Deghand said. "I think we need to do a lot better job of base running. That's my fault."
Thus far, De Soto's 2006 season has looked remarkably similar to 2005. The Cats routed Wellsville with 29 runs in two games to open the season, and then went on to surprise Ottawa, knocking the respected Cyclones off, 15-4.
De Soto continues its season Thursday against Ottawa at the 3 and 2 Baseball Club of Johnson County. First pitch is at 4:30 p.m.
"I don't know if they underestimated us last year or were looking past us, but we jumped on them quick," Deghand said. "I don't expect that at all this year. They'll be waiting for us. Ottawa's solid. It'll be a good game."
More like this story