Sweet start
Girls bounce back to win season opener at Wellsville in extra innings
Considering the way the 2005 season went, one might have expected the De Soto girls softball team to trudge toward the dugout as if the mascot had been hit by a car.
But that wasn't the case Monday. After giving up a pair of runs that left the game tied in the seventh inning, the Wildcats bounced back, advancing a one-run lead in the eighth and holding on for their first win of the season, outlasting Wellsville 7-6 in the first game of a doubleheader.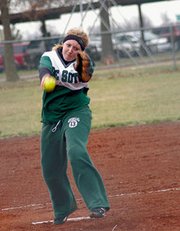 "I was really proud of the kids to go and still get another run," De Soto coach Kelly Dennis said. "We have so many young kids. Maybe they don't understand -- it's probably good they don't understand -- how hard it is to come back."
Still clinging to a one-run lead, De Soto pitcher Jessica Pennington picked up her eighth strikeout to pull the Cats to within one out of the win. A grounder to short couldn't be converted, however, and an Eagle scored from third base.
Katie Davis quickly got on base in the eighth, driving a single past second base. Cortney Rupe, brought in to run for Davis, advanced to second on an Ashley Frieling sacrifice bunt, and to third on a passed ball.
Finally Brittany Wright belted another single up the middle and De Soto retook the lead.
"The key was when these young kids got up there in the batter's box and weren't afraid," Dennis said. "We had some kids that had some quality at-bats."
Winning was a sweet sensation for the Cats, victors only three times last season, but it wasn't a feeling that hung around as De Soto lost the second game of the doubleheader, 10-4.
The Wildcats fell behind 9-1 in the early stages, but rallied, and while they never threatened taking the lead, they did show the same fight that helped them to their first victory.
"We just kind of got in a rut and we weren't focusing. When we don't focus, we look really bad," Dennis said. "But I was happy with how we bounced back. We got guys on in almost every inning and I was really pleased with our bats. Last year all I said after every game was 'We can't score any runs'."
Kira Gonzalez slammed her second three-run home run of the day -- she had another in the first game -- and De Soto squeezed out eight hits against a tough Wellsville pitcher. "We hit better against the second pitcher than we did the first pitcher," she said. "That's encouraging since most of what we'll see this year will be more like the second pitcher rather than the first pitcher."
De Soto will have to build upon that confidence if it has any chance against its next opponent, Ottawa.
The Wildcats will travel Thursday to face the Frontier League power, and they'd better bring every ounce of fight they have in them.
Senior power pitcher Megan Ramsey led Ottawa to the 2003 Class 4A state championship as a freshman and recently signed to play college ball at Missouri State.
"Ramsey's one of the best pitchers in the state. She's a stud," Dennis said. "She brings it over 60 miles an hour and has a change-up that goes around 20. It could be short, quick and sweet unless we put the ball in play."
More like this story