Mother sees message in pigeon's arrival
Carol VanCamp knows it sounds odd to think there is more to the white pigeon peacefully resting in the rafters of her horse arena, but the story so appropriately dovetails.
VanCamp saw the bird, now named Elvis, was special when he showed up March 6 on the roof of the home she and her husband, , own on Homestead Road south of De Soto.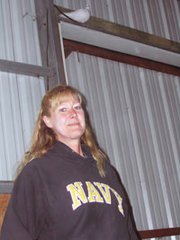 "He had a band on his leg, so I knew he belonged to somebody," VanCamp said. "I tried to find out who he belonged to, but I didn't have any luck.
"I wouldn't have thought much about it, except for the timing."
She didn't feed the pigeon for three days, hoping to encourage it to take flight home, VanCamp said. When she learned from a friend the color of the band meant the bird was hatched in 2004, she used the Internet to inform pigeon breeders in Kansas and Missouri metropolitan cities.
But a series of coincidences has VanCamp wondering if there might be more to the pigeon's visit.
The pigeon first made an appearance at the VanCamp homestead two days after Carol's son Shawn Swander left for Navy boot camp. A December 2005 graduate from Central Missouri State University, Swander enlisting in the Navy last fall, dropping the news on the family Thanksgiving Day.
"He took a test and scored real high," VanCamp said. "They told him he could study nuclear engineering. That's what he is going to do."
Her son isn't the first Navy man in the family. VanCamp's father, Eugene Gorge Wetzel II, served in the Navy during World War II, following in the footsteps of his World War I Navy vet father.
"Dad was in the South Pacific," she said. "He was extremely proud of his service."
VanCamp said her father died in 2004. On the anniversary of his death, she and her husband were on a cruise ship in the Gulf of Mexico during last year's active hurricane season. Worried, VanCamp said she went on deck to see a white bird circling overhead, 75 miles from land.
"And when I saw the bird, there were two perfectly formed rainbows," she said. She and her husband interrupted the omens as a sign from her father that they were safe.
Later, VanCamp said she placed a Christmas tree decorated with two white doves on her father's grave. And the card she gave her son as he left for boot camp had a white dove on it.
So as Elvis insisted on staying at the house, VanCamp began to think maybe he was there for a reason, especially when the bird's favorite roost was near an American flag in the horse arena.
It would be just like her father to send her a message of comfort as her son started boot camp, VanCamp said.
"I think it's a sign my father is watching over us," she said. "My father was extremely protective and a worrywart.
"I've always believed in God. I think my father's death made me think more about things."
VanCamp's neighbor, John Banks, said he was convinced.
"I'm a pretty skeptical guy, but when you see something like this . . . I think it's really amazing," he said.
VanCamp said she got comfort from Elvis whatever his origin.
"I've got three dogs, three cats and 15 horses, but I've never had a bird," she said. "Whatever happens with him, I think I'll have a bird now."