Sharp makes point to share love of nature
DHS

biology instructor one of two recognized as teacher of the year
De Soto High School biological science teacher Scott Sharp has an expanded view of the classroom.
Sharp teaches general biology, Kansas natural history and anatomy and physiology. He decided to begin teaching science after taking a course called "student naturalist" from Steve Case at Olathe East High School.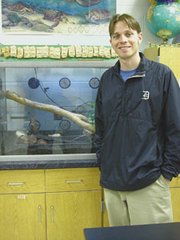 "That introduced me to the science of the outdoors," he said. "I have always been a fan of backpacking and exploring the wilderness, but my interests never had any grounding in science."
Sharp is one of De Soto USD 232's new nominees for the Kansas State Teacher of the Year Award. Sharp, along with Prairie Ridge teacher Carrie Mugridge, will have the chance to be next year's Kansas Teacher of the Year.
The De Soto district has had either a finalist or semifinalist in the competition for the past seven years in a row. Last year's Region III finalist was Tana Priddy, reading specialist at Starside Elementary.
Sharp will be honored at a September banquet in Overland Park along with other nominees in the area. There, he'll learn if he will be named a semifinalist or a finalist. The finalists will attend a banquet in November where they'll find out who will be named the 2007 Kansas Teacher of the Year. The finalists will also be part of a panel that visits with Kansas legislators and future teachers about education.
Ron Poplau from the Shawnee Mission school district was named this year's award winner. As a winner, he travels to other schools talking about teaching and he is a finalist for the National Teacher of the Year.
Sharp has been a teacher at De Soto High School for five years after earning his degree from Kansas University. His special interest is herpetology, or reptiles and amphibians and ornithology, the study of birds.
"Today, the largest push in science is toward the molecular science, and scant attention is being paid to field-based and ecological sciences," he said. "Students and society at large have been drifting further and further from a connection with our natural world. I see this as a travesty."
Sharp said he enjoyed learning something new every day from his students and making a positive change in their lives. He said one of the challenging things he faced was complementing lessons with enough hands-on lab work.
"I think it is trying to balance the dissemination of facts with plentiful opportunities for hands-on activities where students discover important principles for themselves," he said.
He looks forward to teaching advanced placement courses in upcoming years for De Soto High School's expanding curriculum.
"It will definitely be a challenge to me, and to my students," he said. "AP teachers describe teaching those courses as a lifestyle, and from the AP teachers I have known, it is."
More like this story