LTMS

students share skills
Breakfast bridges generations
Lexington Trails Middle School eighth-graders served a special "Silver Cat Theater" spring brunch Wednesday for senior citizens in the De Soto community.
Students escorted citizens to their seats, served their own quiche and yogurt parfait cups, sang songs and showed off their artwork.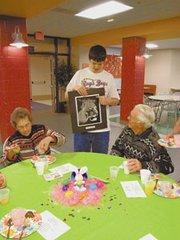 Lexington Trails physical education instructor Susan Slater said the eighth-grade students participate in the event each year.
"It's a way to thank people who are still connected to the schools and to let them know what's going on in our schools," she said.
Slater said she was also grateful for the special attention senior citizens gave the students.
"This is so good for some of them," she said.
Students said they enjoyed getting to show off their skills and meeting senior citizens. Some of the students even got to serve their grandparents.
"I think it's nice to get to see the community of what once was De Soto," said eighth-grader Brenden Lahr.
More like this story