Fund-raiser benefits heart research
Almost every student at Lexington Trails Middle School knows someone who has been a victim of heart disease.
Last week, the school's students raised more than $8,000 for heart research and learned how to prevent disease in their own lives through healthier living in their annual Hoops for Heart event. Physical education instructor Susan Slater said the event gave students the chance to share their stories about friends or family members with heart disease.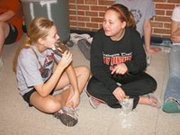 "Heart disease is the No. 1 disease for children under 15," she said. "That's pretty much everyone in our school."
Students earned various prizes for participating in the fund-raiser, such as gift certificates and outdoor toys. One student, Slater said, even donated $1,000 in his grandfather's name, another heart attack victim.
"It gives them a chance to talk about heart disease with their families," she said. "For them, this is a real threat. It's something they can touch, something they can understand."
Slater said LTMS is usually one of the top fund-raising schools for Hoops for Heart in the metropolitan area.
"We make it personal here," she said. "We talk about people we've known who have had a heart attack and how unhealthy lifestyles can be dangerous."
According to the American Heart Association, coronary heart disease is the No. 1 killer in America and strokes rank third. Adults older than age 65 are more likely to die of coronary heart disease; men are more likely to have a heart attack in general. Children of parents with heart disease are more likely to develop heart disease, Hispanics, American Indians and Asian Americans are also in higher risk groups for heart disease. Other factors that have been proven to lead to heart disease are tobacco smoke, high blood cholesterol, high blood pressure, physical inactivity, obesity and being overweight and diabetes. Stress and over consumption of alcohol are also factors.
At LTMS, the entire day is planned around the Hoops for Heart event as each grade level takes turns with a 90-minute session playing various basketball games. Afterwards, they enjoy healthy snacks.
Seventh-grader Morgan Searcy said he thought it was important to raise money for heart disease research.
"My grandpa just had a stroke a couple of nights ago," he said. "It could happen to anyone."
Seventh-grader Oriah Gilliland said she also had many older family members with heart problems.
"The main thing my parents did is quit smoking," she said. "I encouraged them, and we try to stay in shape."
To learn more about heart disease, visit the American Heart Association's Web site at www.americanheart.org