At last!
Commanding run through bracket nets Erisman elusive state championship
SALINA -- Neil Erisman waited four years and it all took a moment to sink in.
When the whistle at last brought an end to his four-year quest for a state title, Erisman let go of his opponent and climbed to one knee. He held one hand down to steady himself, bowed his head and slowly raised his right hand into the air, letting the crowd at Salina's Bicentennial know, at long last, he was No. 1.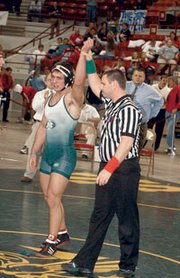 Three times a loser at the state tournament and twice upset in the championship final, Erisman left nothing to chance Saturday as he cruised to his first-ever state title. He rolled over Dustin Bartlett in the 171-pound championship match, defeating the Atchison senior 14-4.
"It was everything I dreamed," Erisman said. "It was awesome. I couldn't have asked for a better ending to high school."
Focused, determined and methodical in three relatively easy Friday matches, Erisman proved to be at his best when it mattered the most, jumping on Bartlett Saturday with an intensity he seemed to hold in check in the three previous matches.
Erisman quickly assumed a 2-0 lead with a takedown.
An escape allowed Bartlett to cut the gap to one, but two more takedowns and another Bartlett escape left Erisman a comfortable 6-2 lead at the end of the first period.
Erisman's other runs at the state title ended in third-period meltdowns and last-second mistakes, but he left no room for such errors Saturday, closed the door in the second period and piled on his opponent in the third.
The Oklahoma State-bound senior added three more points in the second and four more in the third. Bartlett did good to avoid the pin -- Erisman nearly had him early in the third period -- but could only scrape together two more uncontested escapes.
"I went out there to wrestle as hard as I could," he said. "I didn't care about winning or losing. I just wanted to take care of business because I knew the winning and losing would take care of itself."
With just one loss this year and five losses in his career, Erisman wore a massive target on his back in the season-ending tournament. He responded, however, never finding himself on the brink of losing and battling through only one contest where the unthinkable even seemed a possibility.
Erisman opened his state tournament with an easy romp over Curt Zahm of Columbus, pinning the senior in one minute, 40 seconds. Registering a 16-1 technical fall against Clay Center's Jameon Rush in the quarterfinals, Erisman found his toughest match of the tournament in Chapman junior Will Irvine.
Irvine played it defensive and kept it close, but Erisman still pulled out a 7-2 win and ensured his spot in the finals.
"(Irvine) was a good wrestler, but we knew we would be able to take him down," De Soto coach Matt Jones said. "Neil wrestled really well. At this level in this meet, he wrestled very well."
Erisman stood up off his knee and looked toward the 50 De Soto fans screaming their support. He flexed once, twice, and after receiving his medal 10 minutes later, it was on to the rest of his life.
The De Soto fans chanted "OSU," and while Erisman said that's where his focus goes next, he's going to take a little while to celebrate what took so long to achieve.
The large cardboard bracket he was given for winning will find a place on his bedroom wall with so many others and his fourth state medal will find a different ending than the fate that met the first three.
"Quite honestly, I couldn't tell you where they're at right now. I'm pretty sure I'll know where this one is though," Erisman said. "Now I still have to keep getting better. I always have to be dynamic."
More like this story