De Soto to get first private preschool
Any trepidation Brenda Clark and Andrea McCoy had about approaching their banker to help finance a proposed new daycare/preschool center in De Soto disappeared when he related his story.
"He said he has to go to Shawnee every day," Clark said. "He was first on our list."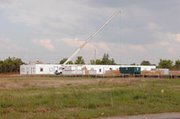 As word got out about the planned center, called Kiddie Korner, Clark and McCoy have found other local parents shared the banker's daily drive.
"Our phone has been ringing off the hook from people wanting to pre-enroll," Clark said. "We've had people tell us they are taking their children all over the area. We had one lady who drives all the way to Grandview (Mo.).
"Small towns thrive on keeping their money in town. With gas prices, it was something that needed to be built for the kids."
The welcome went beyond De Soto, Clark said. Parents from Eudora and Lawrence have inquired about the preschool with easy access from Kansas Highway 10.
Although pleased, the two women's personal experiences led them to anticipate a good response. They also knew the only preschool in De Soto was the one the school district makes available to special-needs children and a limited number of peer slots for general population youngsters. Other than that, the closest preschool is 12 miles to the east in west Shawnee.
Should all go well, Kiddie Korner will open Oct. 1 (the fall-back date is Nov. 1) in the Commons office park Shannan Nelson's Fish Construction is building in K-Ten Commerce Park. The center called Kiddie Korner will divide its 3,600-square-foot space into four classrooms, office and a kitchen. There will also be a 2,800-square-foot enclosed outdoor play area.
The center will have 65 slots available for children old enough to walk to school age, Clark said.
"They have to be walking," she said. "We're hoping for some before and after school care, and kindergarten children for half a day."
A typical day will include open playtime, time spent with Kiddie Korner's "custom" created curriculum emphasizing development of motor skills, a mid-morning snack and a homemade meal made by an on-site cook, Clark said.
Clark, who will run the center's business side while McCoy manages the preschool, said she and her partner understand the trust they were asking of parents.
"All of our staff will have a thorough background check and be certified," she said. "We'll be fully licensed and be insured -- big-time insured."
Quality daycare can be a key economic development asset, especially in a day with both parents working, Clark said. At the same time, Kiddie Korner will help the local economy by providing eight full-time and another seven part-time employees, she said.
"We're owned by two local mothers here in town," Clark said. "We're not a big corporation. "I have had to work and had to drive my children out of town (for childcare). We want to cater to the community so every kid has a nice safe place to come."
Those seeking more information on the preschool should call Clark at 585-1252.
More like this story