Summer reading program gets beastly
Ashley and Taylor Owen, ages 7 and 6, are learning to love the De Soto Library.
The girls enjoy coming to the library with their mother, Wendy Owen, to look at videos, DVDs and books.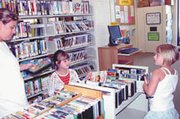 "It's definitely something we enjoy in the summer while we're at home," Wendy Owen said of the library. "I'm just now trying to teach them how to act in the library, but they really like coming here."
Ashley, a fan of Barbara Park's Junie B. Jones series, and Taylor, who likes books about Bratz dolls, have no trouble finding their favorite Disney videos to watch in the library.
This summer's "Paws, Claws, Scales and Tales," program at the library has a variety of activities for children in De Soto.
Jama Rooney, librarian with the Johnson County Library, said children and teens are welcome to get involved in activities this summer.
"It's something to do during the summer months," she said. "They have the pool and their friends and a lot of the kids have jobs, but they can come here and visit, too. I think it's a pretty neat place."
Children and teens can participate in the summer reading program, which allows them to set their own reading goals. They can read comic books, listen to audio books and the materials don't have to come from the library. When they've completed their reading goals for the summer, they can enter for a prize drawing to win a free paperback book or even a membership to the Kansas City Zoo.
Library information specialist Peggy Hendershot, said the children can bring home a calendar for the program and complete the reading. She said they are divided into teams by age group.
"We'll be drawing one team prize each week," she said. "So there are lots of chances to win."
De Soto librarian Melody Kinnamon said the library is also starting a Mother/Daughter Book Group for middle school-age girls and their mothers.
The first meeting is at 5:30 p.m. Thursday at the library. The book "Drowning Anna" by Sue Mayfield is the topic of discussion. Snacks will be available.
"They don't have to read the book to come to the discussion," Kinnamon said. "We chose middle school because we wanted to make sure the girls were all about the same age, so we could get appropriate materials."
She said books for the mother/daughter group would be chosen at the first meeting. The group will meet every Thursday through Aug. 10.
At 4 p.m. each Tuesday, the library has X-Box video game competitions and movie nights.
At 2 p.m. each Thursday, the library has special activity programs. This week, Operation Wildlife is bringing three daytime raptors and three nighttime raptors to teach children about the birds.
On Fridays anytime during library hours, children are invited to the library to find three wacky things and get a prize.
Hendershot said local storyteller JoHo would visit the library June 22.
"The kids just love her," Hendershot said of JoHo. "She'll be here to tell stories about safaris and rhyming."
Rooney said she hoped children would keep up their reading skills.
"This is a time to maintain the reading level they have achieved during their school years," she said. "And it's entertainment -- they can research things they don't have time to do during school and look into the subjects they're interested in."
She said the library is also starting a new program, e-books, in which patrons can get books downloaded to their MP3 players.
For more information, visit the library's Web page, www.jocolibrary.org.