Downtown picture perfect for Wheat
The word "cheese" is not in Jenny Wheat's professional vocabulary.
"I really like to have kind of a journalism approach," the photographer said. "I don't like straight-on shots. A picture of a kid giggling or sticking out his tongue -- that's who they really are.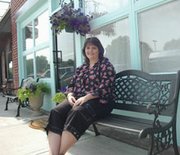 "I focus on that on my sign. It has a big sister kissing her baby brother on the cheek. That's a great photo -- better than if both were looking at the camera smiling."
The sign hangs in front of the freshly painted Wheat's photography in downtown De Soto. The studio represents a new direction for Wheat, who has been shooting out of her Overland Park home for several years.
"I was looking for an area to open a studio with affordable rent, not a lot of photographers and a growing boom area for family photography," she said. "De Soto fit the bill on all those."
Her sign and the bright colors and flowers that decorate her studio's exterior have been well-received by downtown neighbors, Wheat said.
"Everybody has been wonderful," she said. "It's a real small-town welcoming feeling I definitely don't think I would have gotten in a metropolitan setting. The people are really sweet."
Her goal is to provide affordable professional quality family photography of a level above that offered at large department stores.
"I'm a little pricier, but not as much as some professional photographers, who can run $1,000 an hour," she said.
Wheat said she did every kind of family photography except weddings. That includes family portraits, graduation pictures, anniversaries photos, bridal and business portraits and pictures of such things as pets and property shots.
"I want to fill a community photographer's niche in the community," she said.
Although offering a wide range of services, the mother of a 2-year-old girl does have a favorite.
"I love kids," she said. "It's different every time. Kids are as unpredictable as any creature you'll find. Especially babies, they decide if it's time for photos or not."
Her studio is equipped with a play area to keep kids entertained, Wheat said. She also has plenty of hats and costumes to help bring out children's personalities, she said.
The studio also has backdrops for formal shots, with natural and artificial light.
But as much as Wheat appreciates her new studio, she said much of her work would be in the homes of clients and -- especially this time of year -- outside.
Wheat said she would probably be in her studio at 33051 W. 83rd St. Thursdays, Fridays and Saturday mornings, but that she would be in and out. She was available for appointments at any time by calling (816) 695-9542, she said.
"I want to be sure people in the community feel free to come by and talk to me about their ideas," she said. "It's a very open door kind of place."