DHS

band steps up in Washington
De Soto High School's Marching Wildcats played in front of thousands last week in the nation's capital.
After a 22-hour bus ride, the students enjoyed sightseeing in Washington, D.C., then played in the National Memorial Day Parade.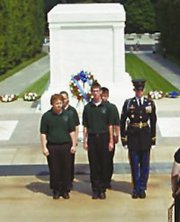 Senior drum major Kasey Willnauer said the parade was fairly short in comparison to De Soto Days, the band's first performance of the year.
But Willnauer said the band saved its best for last.
"We performed great," he said. "That was the best I've ever heard them play."
The students also performed a short concert on the steps of the new World War II Memorial, which was dedicated last year.
"It was cool, sitting there and seeing all of Washington in front of you," Willnauer said. "Behind the memorial is the Lincoln Memorial, and a few of us even saw Marine I, the president's helicopter."
Tuba player Josh Adkins said the World War II Memorial was his favorite part of the trip.
"The fountains at night were pretty cool, with all the stars," he said. "I think that we got to see what our nation is and the basis of what Americans think of our nation."
Students also got to see the Vietnam Memorial, Smith- sonian, Arlington National Cemetery and the Korean War Memorial.
De Soto's band had about 90 students, far less than many of the other bands visiting. At each Memorial Day parade, one representative band from each state is invited to perform.
Adkins and Willnauer said they also enjoyed their last hurrah as seniors, even with the total of 44 hours spent on the bus riding to and from Washington. The trip this year served to unite the band not only through camaraderie, but also in raising about $65,000 to pay for the trip.
Band director Justin Love wrote to the students that he was pleased with their attitudes as well as their performance.
"I want to say one final time how extremely proud I am of our students and how they acted and represented DHS and De Soto," he said. "The students showed their enthusiasm throughout the trip."
Adkins said he hoped next year's band would keep the spirit alive.
"We worked a lot on trying to get school spirit up," he said. "It's great to see that, and I don't want that to die out next year."
Rehearsals for next year's marching band will begin well before school starts the second week of August.