Commitee names contest winners
The De Soto sesquicentennial celebration now has an official logo and motto.
Jon Kobler, head of the sesquicentennial advertising committee, said sesquicentennial organizers selected the motto submitted by Dean Weller for his entry "Your Town -- Yesterday, Today and Tomorrow" and logo submitted by Jason Smith, son of city employee Doug Smith.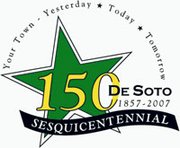 Kobler said there were about 15 entries for the motto side of the contest and about five for the logo.
Weller said a number of possible mottos came to him for the contest.
"My mind runs along those lines," he said. "I submitted five entries. I had a pretty good chance.
"I hope we have a big celebration. I'm looking forward to it."
The strength of the logo was its use of the city's star logo, Kobler said.
De Soto City Clerk and Sesquicentennial Committee Chairwoman said the committee was looking at two ways to incorporate the logo with the design. The final choice should be made this week.
Reece and Nichols sponsored the contest.
The first major celebration in the yearlong observance will be near the end of this year at the annual Mayor's Christmas Tree Lighting at the De Soto Community Center.
The other three dates for major celebrations are in 2007 and are July 4, the Labor Day Weekend in conjunction with the De Soto Days Festival and a commemoration Oct. 3, the date papers were signed founding De Soto.
What will make those days special will be in the details, such as a plan for an old-fashioned Fourth of July celebration with an ice cream social in conjunction with the city's fireworks display, McPherson said. The yearlong celebration would be enlivened with further details by a series of bi-monthly events, she said.
Volunteer forms are available at City Hall or on the city's Web site: desotoks.us.