100 years of attitude
Soon-to-be centurion celebrates birthday with flight in vintage open-cockpit plane
Although she will be 100 years old in six days, Edith Oster still challenges herself with new experiences.
"She doesn't think of herself as old," her daughter-in-law Dee Oster said.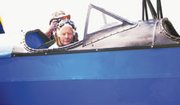 That spirit earned the former one-room school teacher a ride in an open-cockpit airplane Saturday at the World War II air show at the NewCentury Air Center near Gardner. It was the latest of birthday thrill rides she has experienced in the past 10 years.
It was, Edith said, more satisfying than some.
"Who doesn't like to go up in the air?" she asked.
And that separated the latest ride from the hot-air balloon ride Edith took last year in De Soto's Miller Memorial Park. That ride, arranged by RE/MAX Kaw Realty, just didn't pack a thrill.
"It didn't seem like I got both feet off the ground," Edith said.
There was no problem that way Saturday. Edith sat in the back seat of the vintage training plane while Dr. Ron Wright flew two circuits along the airport's runway, much to the delight of the crowd gathered to view the World War II airplanes on display.
Edith started her tradition of unusual birthday excursions with a tube float down Nebraska's Niobrara River on her 90th birthday. Dee said it was a tribute to Edith's older sister who drowned in the river before she was born and for whom they released flowers on the trip.
"She likes the water. We had her over to our son's house in July, and she wanted to go swimming," Dee said of the former collegiate aquatic performer.
"That was my job, diving down to the bottom of the pool and come up eating a banana," Edith said.
The next birthday adventure was a horseback ride on Edith's 96th birthday. Like last year's balloon ride, it lacked zip.
"She wanted to take the reins and gallop," Dee said.
Edith's son John said her first unusual birthday occurred when her brother took her to Germany in 1989. She was dining in the Black Forest when the German national soccer team sent over a bottle of wine for her birthday, he said.
"Maybe that's where the idea got started," he said.
Or maybe it was a response to earlier years.
"She spent 40 years of her life in the Nebraska Sand Hills," her son said. "Total isolation. We never did anything. Whenever we went to a town big enough to have a traffic light, my dad would drive straight through it.
"I guess the adventurous part came out in later years."
Whatever her background, it certainly contributed to health. Edith never visited a doctor until her 80s and had an older sister who lived to 103.
Edith will celebrate her birth next week at Hillside Village of De Soto with friends and family, John and Dee said.
Meanwhile, Edith and the family need to think of an adventure for next year.
"I don't know what we'll do, but it will have to be something after this," John said.