A farmer's promise
Zimmerman's market brings fresh veggies, customers to De Soto
Seven-year-old Brenna Zimmerman smiles politely when a customer asks her where the fat, juicy tomatoes are grown.
"They're right there," she said, pointing to the rows of plants behind her sales table.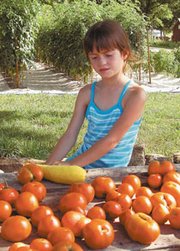 Heat indices near the 100s couldn't keep away swarms of customers at De Soto's new farmer's market last week after its official ribbon cutting.
"Fresh Promises" at the Kill Creek Road exit off Kansas Highway 10 is the brainchild of Darrel Zimmerman, who is continuing his dream to give residents throughout the area a chance to learn about real farming.
"This is strictly a market," he said. "Everything has to be sold by people who grow it or their representatives. You can't just buy produce and resell it."
The opening week of Fresh Promises brought only four vendors July 5, but one week later, 10 vendors came to the market. Zimmerman handpicked many of his vendors at nearby farmer's markets. All are within 20 miles of De Soto. Some honey and tomatoes are actually grown or produced on the Zimmerman farm premises.
A market for De Soto
Ray Bjorgaard, who farms along Waverly Road, was only too happy to sell produce in his own city. Bjorgaard also sells produce at the Shawnee Farmer's Market.
"There's more customers here (De Soto) and more vendors," he said.
Unlike some inner-city markets that opened as early as May, Zimmerman based the opening of Fresh Promises on the actual Kansas growing season. This time of year that means fresh beans, beets, black raspberries, corn, cucumbers, peaches and a few other items.
"All you can get in May is bedding plants around here," Zimmerman said, noting that some farmer's markets will actually buy grocery-store produce from subtropical regions to make up for the later growing season.
Tom Pyle, Eudora, came to the market to sell his tomatoes, onions, zucchini and yellow squash. Pyle said he's tried to start a weekend farmer's market in Eudora, but it doesn't yet have the same response as De Soto's.
"This is a fantastic crowd," Pyle said. "We're hoping to build Eudora's up to this."
Zimmerman said his location at the edge of the metropolitan area on a major highway was a big help for getting noticed by customers. His experience of selling pumpkins for years in a fall festival led him to believe a summer farmer's market might have some success.
"It's not just a place to buy vegetables," he said. "It's a place to see your friends."
Treats from the garden
De Soto resident Myrtle Coker said she was grateful for some vegetables from a home garden. As an elderly couple, she said it's difficult for her and her husband to grow their own vegetables.
"I grew up on a farm," she said. "I know what homegrown tastes like."
Chu and Yang Kim, De Soto, presented an unusual twist with their homegrown Asian melons and eggplant and okra. The Kims are originally from Korea and immigrated to Overland Park about 10 years ago. With their children in college, they've moved out in the country to enjoy farming. The Kims said they hadn't sold produce before, but decided to participate in Fresh Promises since their farm is just down the road on 95th Street.
The taste of homemade
Not all the vendors sell strictly produce. A few sell fresh-baked pies, cinnamon rolls and bread.
Lisa Ingelse of rural Olathe goes so far as to mill her own wheat flour to make the freshest cinnamon rolls. Her three home-schooled children say they can't be beat.
"They're sooo good," 6-year-old Sydne Ingelse said.
The farmers said they would have bigger tomatoes and more corn this week. Bjorgaard said some of the residents didn't have water for a few hours before the market opened, and he couldn't wash vegetables beforehand. He said he'd have much more at the next market.
"And my tube roses are my big item, but they're not ready yet," he said.
Fresh Promises is open from 5 to 7 p.m. Wednesdays at 9210 Kill Creek Road, De Soto. The market will run until September.
More like this story