Masterful work
De Soto master gardeners help spread K-State's latest horticultural research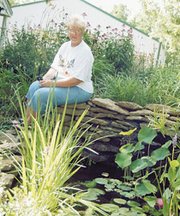 Maye Gulley's lily strewn water garden at her home on De Soto's 95th Street vividly displays her gardening ability, but even she has had her failures.
"I just couldn't get most of the things I like -- cucumbers, tomatoes and peppers -- to grow under our black walnut trees," she said. "It looked like it needed watered. I thought it was me."
The problem, she later learned, was that the roots below ground and tree canopy above secret a poison that kills most plants.
Gulley learned that lesson after she became a volunteer in the Johnson County K-State Extension Master Gardener Program, an indication that the frustration with the walnut trees aside, she retained her lifelong passion for gardening.
With the encouragement of friends, Gulley first applied to become a master gardener five years ago.
"The first time I applied, I was turned down," she said. "I was just devastated."
Johnson County Extension horticulture agent Dennis Patton said that is the fate of the majority of applicants. Every year, Extension culls about 90 applicants down to the 30 to 34 gardeners accepted in the program. He and others in Extension want to keep numbers down for the full Tuesday classes those new to the program must attend for nine weeks in the fall.
"We want to make it a personal experience," he said. "We want to make them feel wanted and part of the group."
Extension is also looking for the right attitude.
"We want people sincere about being a volunteer," Patton said. "The program is not about just making your lawn look better. We're very serious about that.
"We have 300 volunteer master gardeners. They donated 28,000 volunteer hours (last year). That's the equivalent to 14 full-time employees."
The woman who kept fighting to grow vegetables under the walnut tree didn't let the first rejection end her dream. In 2002, Gulley was accepted into the program and has taken to heart the program's emphasis on volunteering. She helps with the master garden home tours and at the Extension table at various garden shows in the spring. Locally, she lent her expertise to the De Soto Parks and Recreation Committee when volunteers were looking to plant flowers to spruce up Miller Park.
"They listened to me and planted my suggestions -- things that wouldn't need someone down there working on them all the time," she said. "They look real pretty."
Currently, she and another De Soto master gardener, Mark LaBarge, are volunteering one day a week at the K-State Sunflower Horticulture Research Farm.
"This is my first year of volunteer work," LaBarge said. "I'm still considered a rookie. I went through basic training last fall."
The master gardener program fits well with his job as a biology instruction at JohnsonCounty Community College, LaBarge said.
"It's all the same thing," he said. "Horticulture in applied botany. It all fits into my love of nature."
It is also another avenue for teaching.
Those in the community know who the master gardeners are and tend to seek their advice, Patton said. In that role they provide a considerable "multiplier effect" to the research of K-State and K-State Extension, Patton said.
That research is what master gardeners stress, Gulley and LaBarge said.
"I can't even tell you, 'That's how I do it,' because that's not research," Gulley said. "It has to be research based. It's not like I'm going to come over and plant your garden for you."
Buying into the research-first outlook can be difficult, LaBarge said.
"We all have our own baggage," he said. "I've been gardening for 20 years. I've done some things one way and now I find it's not right, but it's hard to change.
"The main reason this thing exists is to get enough people to share knowledge on how to share resources and try not to waste as much as we do."
That's the key, Patton said. Some gardening can be subjective, and the time-proven methods of his master gardeners are worthwhile. But the main area master gardeners are asked to relay the best practices developed by researchers is in the use of chemicals when fertilizing or trying to rid yards and gardens of insects and weeds.
Gulley and her near-neighbor LaBarge prefer to get their volunteer hours outdoors. Neither relishes working the Master Gardener hotline at (913) 715-7050, at which master gardeners answer questions from people throughout Johnson County.
"I feel like I have to know everything," Gulley said. "Some like it and spend a lot of time there."
Last week, the two De Soto gardeners got their own test plots to care for at the Sunflower research farm. It was just another reason to enjoy the work, Gulley said.
"The ground out there is just beautiful," she said. "I say I go out there so I can bring mine home under my fingernails."
But, Gulley admitted it didn't take much to make her want to garden.
"Growing up, I'd rather be outside than inside," she said. "I'm still that way. I can think of something I should do inside, but if there's weeds to pull or something else, I stay busy outside."