Wrestling a life-long passion for De Soto leaders
De Soto wrestling coach Matt Jones made no illusion as to his sport's grandeur.
He knows most of America grew up playing T-ball and kid pitch. He knows the NFL is the nation's most popular professional sports league and that high school football still remains the king of prep sports.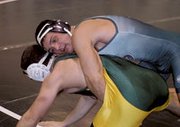 "Wrestling is a minor sport," he said. "I know and they know it, but when they have a big crowd come out, they love being cheered for. It's like any other sport."
As his Wildcats prepare for the biggest stretch of their season, Jones said he's hoping his team can find that support.
It doesn't get much bigger in the world of wrestling than the next five weeks in De Soto.
First up, Baldwin.
Guiding a flock of novice wrestlers and one of the state's best has confronted Jones with new challenges this season, but the Baldwin tournament is perfect for his team, he said.
Each weight class -- there are 14 weight classes ranging from 103 pounds to 275 -- is divided into two pools. Each competitor will wrestle every other one in his pool, then the pool champions will face off to decide first and second place, and so on, ranking the wrestlers first through tenth.
"They get to wrestle kids at their level, kids in the middle and the top kids. It's a nice mix," Jones said, always conscious of how to get his young competitors experience without demoralizing them.
But the days of blaming losses on youth are gone, Jones said. Neil Erisman has never had any trouble -- he's 30-0 on the season -- but it's been a slow and steady season for the rest of the roster.
"I expect each of them to come away with a win," Jones said. "I don't expect a first-year wrestler to beat a kid that's been going for 10 years, but instead of just being happy going out there, I want to see them score and last longer than the first period."
Erisman said he was wary of Brent Haynes, a wrestler from Oak Park that he's never faced, and he stressed that he always has to keep his eyes open for a surprise competitor.
Pulling an upset against a stronger, more experienced foe isn't out of the question, and that's part of the beauty of wrestling, Jones said.
First picking up the sport when he joined the Olathe Wrestling Club in fifth grade, Jones stayed with the sport through his high schools days at Olathe South, then immediately got into coaching.
Erisman also found his start at a young age, first hitting the mats when he was 5.
Along the way, both Erisman and Jones said they learned finding the path to the top of the medal stand isn't necessarily about being the biggest, the fastest or the strongest.
"Yeah, it helps to be strong, but someone with good technique will always win out over someone stronger," he said. "You can have a guy that's not very strong, not very quick, but if he's got his techniques perfected, he'll win."
That's part of the message he delivers when trying to lure new faces to his program.
"I tell them that wrestling's going to help their confidence in themselves. It's going to help their overall physical conditioning," Jones said. "I think it's good when kids are put in a position where they're on their own without anyone to put the blame on. If they want to go out and wrestle their best, they know what they need to work on. There's no place to point the blame."
Working alone is part of the sport, Jones said, but De Soto's final home meet looms Feb. 2, just beyond the Baldwin tournament. He said he'd love to see a major turnout for the event.
The postseason kicks off after that, first at league, then regionals, and for those who qualify, state.
"They love being cheered for, to have someone behind them, pulling for them," he said. "The kids notice when the community is there. They look forward to it and are excited by it."
What's left?
Five varsity tournaments remain on De Soto's schedule, each one increasing in importance and pressure.
Baldwin
9:30 a.m. Saturday
One of the largest tournaments left.
De Soto
5 p.m. Feb. 2
Erisman's last home competition.
League, at Baldwin
8:30 a.m. Feb. 11
Chance for many Cats to make a mark
Regionals
9:30 a.m. Feb. 17-18
Cats competing for a trip to state
State
9:30 a.m. Feb. 24-25
Erisman looks to claim elusive title
Who's that?
De Soto's season has mostly been marked by young wrestlers learning the sport, but some have managed to stand out.
Neil Erisman (30-0)
Senior
4th year
Erisman is hands down the team leader. With only three losses in his career, all coming at the state meet, he has but one focus this season.
Shane Heffner (5-5)
Freshman
1st year
The 103-pound Heffner is .500 in his varsity career and 7-2 in junior varsity. He is one of De Soto's top threats outside of Erisman.
Aaron Donnell (4-10)
Freshman
1st year
Donnell hasn't fared as well as Heffner in the varsity ranks, but he is 10-1 against junior varsity foes. Donnell could make waves at 135 pounds.
What's going on? A guide to scoring and what to watch for in a wrestling match.
Just score, baby!
It's runs in baseball and goals in soccer. What makes a wrestler a winner? Points.
Wrestlers tally points by executing moves and maneuvering their opponents into or out of positions over three two-minute rounds, or one one-minute round and two two-minute rounds in the consolation rounds of a tournament.
An official wearing two different colored arm bands that correspond with matching ankle bands on each wrestler then raises the appropriate hand to signal to the scorekeeper when a competitor has scored.
Rack 'em up
There are five different ways to score points.
¢ A wrestler notches two points for a takedown, which is controlling an opponent's hip on the mat.
¢ One point is tallied when a wrestler breaks away from his opponent's control. It is called an escape.
¢ Two points are awarded for a reversal, which is when a wrestler goes from being controlled to being in control of his opponent.
¢ Either two or three points can be awarded for a near fall. Once a wrestler's back is tipped beyond a 90-degree angle while being controlled on the mat, his opponent is awarded two points after two counts. It becomes three points after five counts.
Finish him!
It's all about the win. There's three ways for a wrestler to win a match.
¢ Winning by pin is the simplest and most direct route to victory. A wrestler must keep both of his opponent's shoulders on the ground for approximately two seconds.
¢ A wrestler can win by technical fall when a lead of more than 15 points is taken before time expires in the third round.
¢ A win by decision is when neither wrestler earns a pin or a technical fall and the winner is decided based on points.