Seat-of-the-pants workout
Chair exercise program helps keep Senior Center regulars fit and limber
Mondays and Wednesdays at 12:45 p.m. are filled with camaraderie, fun, jokes and even a little bit of exercise for some De Soto residents.
The Johnson County 50 Plus program offers chair exercise classes at the De Soto Senior Center for anyone interested in attending, class instructor Alinda Sabin said.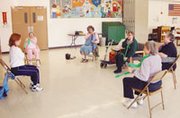 "It's geared toward people over the age of 60, but younger can come," Sabin said. "There is no registration, but donations are suggested."
Sabin said the exercise class was a 45-minute program that focused on a myriad of activities.
"We do cardiovascular flexibility exercises in the chair," Sabin said. "We also do toning exercises using resistance bands."
Sabin, who has been leading the classes at the De Soto Senior Center for three years, said the exercises were practical and help every day muscles.
"They are geared toward functional exercises," Sabin said. "A lot of it is range of motion and working on the joints. We like to get our heart rate up."
Mary Manly has been participating in the class for about three years. She said she liked the way she felt after the class was over.
"It just relaxes me, and I feel toned up," Manly said. "It helps my back a lot. I used to have a bunch of back problems but not much anymore. And it's better than doing it at home by yourself."
Manly said she enjoyed almost every exercise, as they help her body become stronger in different ways.
"(Sabin) varies it so much, and we work so many different muscles," Manly said. "If someone comes in with a sore shoulder, then (Sabin) will do exercises that work on the shoulder."
Delores Makepeace said she had attended the classes regularly for several years. She said although she enjoyed doing the exercises, she really liked the camaraderie with the other attendees the most.
"I like the fellowship ------ just visiting and seeing everybody," Makepeace said. "We can cry over the bad times and be happy about the good times together."
Sabin said the class had about nine regular attendees, creating a close friendship among each member.
"It's a laid-back class," Sabin said. "You don't have to have any rhythm or exercise talent. It's just fun."
Makepeace said despite her age, she still joked around.
"All that wiggles is not Jell-O. I do, too," Makepeace said.
More like this story