Starside students behave to earn silver spoons
For exactly two minutes, the Starside Elementary School's cafeteria is quiet -- except for a few tapping of spoons and stacking of trays, the students try their best to show off their manners.
"We've got to be quiet in the hallways while getting lunch and remember forks and napkins so we don't go back through the line," third-grader Meredith Wolfe said.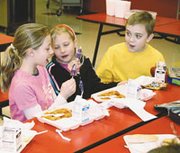 The students who show their best behavior during lunch earn a silver spoon at the end of the day. The spoon chart on the side of the cafeteria wall shows how many good behavior spoons each class has earned. When a class has four silver spoons to its name, they all get a prize.
Exploratory teacher Gerrie Meyers told the students which classes had one spoon left before a prize. She asked them to sit quietly for two minutes to finish lunch, and they do -- all the nearly 100 students during the first lunch shift. There is no screaming, no food being dropped on the floor, and students finish their lunches in less than 20 minutes.
Starside counselor Paula Henderson said the school began the program two years ago to encourage better behavior at lunchtime.
"It makes a huge difference," she said. "We've been pleased with the results."
Henderson has prizes such as pencil erasers, notebooks and other non-food awards for entire classes who behave well.
"We're so into the character education that we talk about having good character as we do these," she said.
Reba Berola, lunch cashier with the district, said lunch wasn't always so easy with elementary students. With the silver spoon program, she said students were encouraged to show their best manners.
"They need all the incentive they can get," she said. "They like getting those brownie points."
Berola said the best part about the program was that only an entire class could be awarded a silver spoon -- not just a single student.
"You'll see students telling others to behave," she said. "The youngest ones and new ones learn manners faster."
More like this story