Girls fall short in overtime
De Soto girls coach Dwight Spencer couldn't blame his players.
Not after they'd come so close, so many times.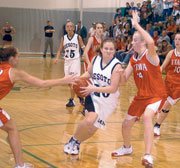 The girls fell in overtime Friday, losing their third game of the season, 50-47, in heartbreaking fashion.
Close calls and close shots eventually caught up to the Wildcats. Kayla Bader sank two free throws to establish a one-point lead with 47.7 seconds remaining in the fourth quarter, but Ottawa's Megan Ramsey answered with one of her own with 23.6 remaining to tie the game.
Jackie Goleman gave De Soto an early lead in the four-minute overtime period, but her two points would be all the Cats would score and Ottawa made five of six free throws to win the game.
"We let them build a big lead and we just didn't have enough," Spencer said. "We went to the basket well, got a good shot up there and we just couldn't get the ball to fall. I can't complain. As long as we take good shots, I can't complain."
Lost in the havoc of a gut-wrenching overtime were De Soto's chances to win the game in regulation.
Kira Gonzalez sank a 3-pointer to pull De Soto within one point with 1:33 remaining in the fourth, but Bader couldn't take the lead on the next possession, turning the ball over on a traveling call.
Bader stole the ball in the backcourt and was fouled driving for a layup. She hit the free throws for the lead, but Gonzalez fouled out with 40.5 seconds remaining and Christina Davis drew an offensive foul moments later, thwarting another chance to build on the advantage.
One final chance ended in another turnover with 10.1 seconds left and the Cats didn't even try to score when Goleman grabbed a rebound in the waning seconds, instead opting to wait out the clock and take a chance in the extra frame.
"When we took the lead, I don't think we realized that we had taken the lead and we didn't play real smart there for a couple possessions," Spencer said. "When you don't have any timeouts left, it's hard to get them in control in that kind of atmosphere."
But to label the game a blown opportunity is to dismiss what was a dramatic fourth-quarter comeback.
Down by 14 to start the fourth quarter, only a long run of dominating scoring and defense even gave De Soto a chance to win or lose the game in overtime.
Ottawa broke open a close game near the end of the third quarter, but a pair of Jessica Blankenship buckets and one from Goleman quickly helped close the gap. De Soto laid a 10-0 run on the Cyclones, capped by a Gonzalez steal and layup.
Ottawa, after amassing 42 points through three quarters, tallied just three points in all of the fourth. The Cyclones missed their final three free throws, all which would have given them a key late lead.
Factor in Gonzalez's early exit and starter Jessica Blankenship fouling out and Spencer said he found plenty to be proud of in the game's crazy finish.
"The kids that were in there did a good job stepping up and competing to the end," he said. "We were probably a little overmatched without Kira and Jessica (Blankenship), but we still competed right to the end. It's a fun kind of atmosphere to play in. It's a tough one to lose."
Tough to lose, but an atmosphere Spencer said he's confident his team can deal with the right way. With another league game staring the Cats in the face on Friday, Spencer said there's no time for his team to blink.
"We can feed off this. There's a lot of hurt in that locker room which is a good thing," he said just after the game. "When I first got here losing was almost expected. Right now they're a little ticked off. We're going to try and use this for fuel in our next game."