Man on a mission
Neil Erisman has shown he has all the pieces to make him one of the state's best, but will that add up to an elusive state championship?
The first thing you notice is the quickness.
Neil Erisman is quick, or at least usually appears quicker than his opponents. When the whistle sounds to begin a match and the referee throws down his hand to signal the action, De Soto's senior wrestler explodes from his stance.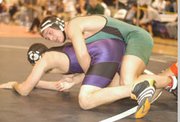 Erisman is often on his opponent even before he moves.
Bulging arms and powerful legs supplement the fast feet and a head stocked full of moves, counters and strategies have made Erisman one of the state's best wrestlers.
Sometimes he wins that quickly, using the speed. Erisman possesses one of the area's top pin times, registering one in just 14 seconds. He barely wrestled two whole minutes at the Frontier League meet two weeks ago.
Other times he wins slower. Two of his meets at the regional tournament were of the blitzkrieg sort, knocking off Joe Hewer of Osawatomie 59 seconds into the opening round, and beating Harry Briggs of Spring Hill in just 28 seconds to qualify for the regional quarterfinals.
But the next two matches actually went the entire three rounds, Erisman picking up a win over Louisburg's Ahsha Abu-Ali 15-4, and the regional title with a 13-2 decision over Dakotah Gettler of Fort Scott.
"I was working on my takedowns and my conditioning," Erisman said. "They were full length matches, which was good."
Fast, slow, dramatic or boring, Erisman's found plenty of ways to win in his nearly four full seasons competing at De Soto.
But he's never won a state title, a glaring asterisk on his esteemed 143-5 career record.
Not that he's really needed a state title. Erisman readily acknowledged that he needs to add a state title without pointing out that if he were to win and haul it home, he might have a hard time squeezing it into the trophy case.
He's won every tournament he's entered in his high school career outside five. He's picked up awards, honors and trophies that some may consider more important than the Kansas title.
He's bested a bracket of 100 to earn a title in other leagues and if high school is seen as nothing more than a step to something more, he's undoubtedly achieved the highest possible honor.
Erisman signed a scholarship offer with Oklahoma State -- perhaps the nation's premier collegiate wrestling program. He long ago stated his ultimate goal is to win an Olympic gold medal, probably at the 2012 Olympics in London.
A high school state title has yet to be declared a requirement for bunking in the Olympic village, so the question surfaces -- does Erisman really care what happens this weekend?
"It is important," he stressed. "My ultimate goal is the Olympics, but everyone wants a state championship too. I've worked hard. I've done everything it takes. Now I just have to do it."
The memories bring back nothing but heartbreak, and when Erisman pulls himself into his green and white De Soto Wildcats singlet and walks onto the Salina Bicentennial floor, he'll walk right into a glaring reminder.
His first opponent in this weekend's Class 4A state championship is Columbus's Curt Zahm, the younger brother of Nick Zahm, the 152-pound wrestler that edged Erisman for the state title last February.
"I'm aware of it," Erisman said of the connection. "But, I've said all season I just need to take it one match at a time. I can't look ahead and I have to take every match as if it is the state championship match."
Erisman's frustrations don't simply lie in the fact that he's seen three remarkable regular seasons end just short of the title. Making everything that much worse is how close it's all been.
He had the title won as a freshman. He led Colby's Eric Luedke 1-0 late in the third round of the 145-pound championship match. Erisman was called for stalling, however, and Luedke notched a takedown and the state title early in overtime.
"There's no excuse for me losing that match," Erisman said. "If I would have attacked more in the last eight seconds, then I wouldn't have gotten hit for stalling. Then I would have had a state championship my freshman year. I can't use an excuse. I don't use excuses."
A year later Erisman was tied with Santa Fe Trail's Justin Wiscombe at the end of three periods. The then 145-pound sophomore had already beaten Wiscombe, 3-1, at the Kaw Valley League meet just a few weeks prior.
Still, Erisman was upset in overtime, falling for the second time of the season and the third time in his career, 2-1.
Erisman said his junior year still stands as the most disappointing, however.
Tied 5-5 with just seconds remaining -- perhaps not a good thing considering Erisman's luck in overtime -- Zahm registered a takedown, securing his first state title and his third state medal with the 7-5 win.
"It's pure heartbreak," Erisman said, remembering back over the years. "But I can't let it get me down. I have to let it motivate me. I can't stay down about what happened in the past."
Despite already losing once this season -- Erisman fell to a Missouri wrestler in January -- Erisman is probably the man to beat in the 4A 171-pound bracket.
Dustin Bartlett, an Atchison senior, has a 38-1 record, nearly as good as Erisman's 42-1 mark and John Dukes of Douglass is undefeated at 32-0. Ryan Olson of Hiawatha is also undefeated, but logged just seven matches this season and three other wrestlers have lost two or three times.
But Erisman's been a key figure in wrestling circles for years. He became even more a target after his commitment to Oklahoma State, a fact he doesn't exactly hide, often brandishing a bright orange Cowboys shirt under his De Soto-green warm up suit.
But the senior said that's fine with him. He doesn't mind being the target, because his focus is squarely on himself.
Many of Erisman's words drift into the realm of sports cliches, pointing out the value of taking one match at a time and always being ready.
But Erisman said it's more than typical athlete-speak. There's no more time to gloat, boast or predict. All that's left is focus, hard work, and he said hopefully one last great high school moment.
"I just need to focus on myself," he said Tuesday. "I'll be very disappointed if I don't win this. It's not the end of the world, but it's something I should do."