D.O.G.S.

litter Starside classrooms
Just because Raul De Leon can't speak much English doesn't mean he can't volunteer at his daughter's school.
De Leon, father of Starside Elementary third-grader Joselin De Leon, spent one entire day last week at his daughter's school. The Spanish-speaking father and two other Starside dads played with the students at recess, helped teachers tutor and read to students as part of the school's new Watch D.O.G.S. (Dads of Great Students) program.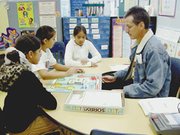 While he was visiting Vergie Opdycke's first-grade classroom, first-grader Steven Najera translated for De Leon. Najera said De Leon was happy to spend a day learning about his child's school and even learn a bit more English himself.
Angela Steele's father, Philip Steele, also spent the day at Starside.
"It's just a way to get involved in the school system and get involved with my daughter even more," Steele said.
The fathers ate lunch with their children and helped out in different classrooms throughout the day.
De Leon played games with students in the English as a SecondLanguage program, many of whom also spoke Spanish in the home.
Watch D.O.G.S. began earlier this semester to get more dads involved in school.
The program began nationally after the 1998 school shooting in Jonesboro, Ark., when a group of fathers wanted to find a way to provide positive male role models for all students.
First-graders Sara Speed and Zach Collins said they were pleased to have fathers in their school each day.
"Having my dad at school means I'll get to see him," Zach said.
Starside Elementary School counselor Paula Henderson said the program had become so popular that the school had nearly filled every day in the school's calendar with at least one father volunteer.
Opdycke said teachers at Starside were pleased to have parents getting involved.
"We're especially trying to encourage our Hispanic parents," she said. "Their children just love having them here."