De Soto High pianists keyed in
Unprecedented four students earn performances at state finals
This year marks the first ever that four piano students from De Soto will be traveling to perform in the Kansas Music Educator's Association's state competition.
Juniors Kyle Groen, Alex Prosser and Leslie Hodges and sophomore Ji Eun Kim, an exchange student from Korea, qualified for state competition by earning a superior "I" rating for their performance at regional competition Jan. 28 at Baker University.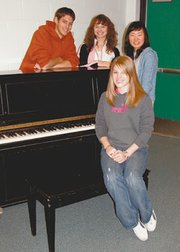 De Soto High School's choral music instructor Mary Etta Copeland said the school was usually lucky to have one piano student qualify for state. She said she could only remember once before that two students qualified, some time in the 1980s.
"Even getting a "II" is still very good," she said. "This level of competition is tough."
She said the other school districts competing included Blue Valley, Shawnee Mission and the entire eastern region.
All of the students said they have been taking private lessons for at least 10 years. Leslie Hodges, Copeland's granddaughter, said she had more informal lessons throughout her childhood from her grandmother and her parents, who are also music teachers. Leslie said she's sure music will have a major role in her chosen career, but she's not sure yet what that will be.
"I don't want to be a teacher, but I'd definitely go into music," she said.
Ji Eun is visiting the United States for the first time this year. She began taking lessons in Korea when she was about 4 or 5 years old."Korea is tougher sometimes, because the students who don't do as well don't get any rankings," she said.
Alex also took lessons from Copeland. She qualified for the state piano competition when she was a freshman and also plays flute. Alex said she was not sure if she'll pursue a music career yet, but will always be involved in music.
"I'm going to stick with flute and piano, and I want to be in orchestra on the side in college," she said.
Kyle said he had been taking piano lessons from Riverside Elementary School music teacher Sheryl Engels for about 12 years.
He said he spends all first semester practicing music for competitions.
"When this is over, I take the summer off, and after that I begin picking out music,'" he said.
The students will perform at the state festival Saturday in Wichita.