Wreck turns fire response upside down
Gregg Parrish said he didn't intend to be receiving emergency aid when he and his wife, Alayne, responded to a fire call Friday with the De Soto Fire Department.
"It's strange being on the receiving end when you're used to being on the giving end of that kind of call," he said. "People asked me what I did, I said, 'We're trained to tell people to lie still and let people take care of you, so that's what I did.'"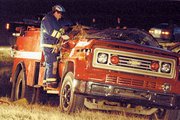 The husband and wife team of De Soto firefighters suffered minor injuries in a rollover wreck of a De Soto Fire Department tanker truck while responding to a fire Friday on Evening Star Road west of town.
Alayne said the couple was returning home from work Friday when their daughter informed them of the structure fire. The two went to the downtown fire station and heard a request for the tanker truck garaged on Ottawa Street.
"The truck wasn't used very much -- only when we needed extra water," Alayne said. "It only goes about 35 mph. Everybody's always passing us on the highway."
The accident occurred when Gregg attempted to turn north on Evening Star Road from a Kansas Highway 10 exit ramp. The Parrishes said they could feel the 750 gallons in the truck's 1,000-gallon tank move as Gregg attempted to make the turn.
"You could tell it was pushing us," he said. "We weren't going that fast; it only rolled once. We're lucky it landed back on its wheels. We would have been in there a lot longer if it hadn't."
After being cut out of the truck, the couple was taken to Overland Park Regional Medical Center for treatment. Gregg has three staples in his head to close a cut, and he and Alayne returned home bruised and sore.
Neither Gregg nor Alayne were wearing seat belts. Alayne said the 1989 Chevrolet truck had only lap belts, which were buried in the seats.
"We're just a little sore," Gregg said. "We're real fortunate considering the accident."
De Soto Fire Chief Kevin Ritter said the truck and 1,000-gallon tank were totaled in the wreck.
The tanker was an important piece of equipment for the department, but the department could rely on automatic and mutual aid agreements to cover its loss until it was determined if and how it should be replaced, Ritter said.
Accidents involving firefighters responding to calls aren't uncommon, Ritter said. His department would try to learn from the incident while being thankful that two of its members weren't seriously injured, he said.
"The important thing is they are both OK," he said. "They've been part of the fire department for a long time."
De Soto interim City Administrator Mike Webb said the tanker was insured, but he hadn't reviewed the insurance policy as of Monday afternoon.
The fire to which the couple were responding claimed a barn with some converted living spaced owned and occupied by Mike Male, said Mark Billquest of Johnson County Fire District No. 3.
There was little chance to save the building when firefighters got to the site about a mile north of K-10, Billquest said.
"It was burning pretty good. That and the age of the structure -- it was over a hundred years old -- made it unsafe to enter."
Firefighters and units from his department and the De Soto and Lenexa fire departments fought the blaze, which was reported at 5:47 p.m. Eudora emergency responders also helped with the accident, Billquest said.
More like this story