Goleman's 20 lead Cats to big win
It looked so good it seemed it had to be planned.
Kira Gonzalez grabbed the ball and raced down the court, tossing in a layup as she approached the basket and drawing a foul in the process.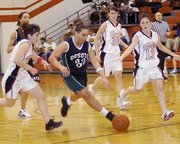 She missed the free throw, momentarily spoiling the scene, but as Jackie Goleman grabbed the rebound and scored, it was obvious something was a little different with the Cats.
After two weeks when points came slowly and painfully, De Soto tossed a giant weight off its shoulders Tuesday, beating Anderson County 48-45.
"That does feel good to get back on the winning side," De Soto coach Dwight Spencer said.
The Wildcats' (7-8) entire approach to scoring seemed different. Goleman led De Soto with 20 points and Gonzalez had nine.
Consistently struggling in the first quarter this season, De Soto finally got off the way it wanted, unloading 14 points on Anderson County. The Cats trailed 26-23 going into half, but retook the lead in the fourth quarter and hung on as two Bulldogs' shots that could have tied the game bounced off the rim.
The first quarter lead was a big help, Spencer said.
"It relaxed the kids and really helped them," he said. "Jackie was really on top of her game. That was a lot her, but that was a lot her teammates finding her and getting her the ball, too."
Goleman was powerful throughout, scoring six in the first and seven points in the third quarter and Gonzalez came out big in the fourth, scoring seven of her points. But perhaps the difference between Tuesday's game and the frustrating performances over the last few weeks was in the rest of the team.
Five other Wildcats got on the board against the Bulldogs. Stephanie Hoover and Kayla Bader each had six and Jessica Blankenship and Sam Johnson combined for six more.
Gonzalez and Bader attacked the rim in the fourth quarter and as time ticked down, it was Anderson County subbing in and popping off in hopes of finding miracle 3-pointers, not De Soto.
"It really wasn't anything designed," Spencer said of the aggression. "When Kira gets fired up, she can go to the basket like that."
Tied heading into the fourth, Gonzalez gave De Soto the lead with a free throw and padded it by sinking a 3-foot jumper on a drive moments later.
Anderson County rallied back, however, and a pair of Goleman free throws knotted the game at 44. Goleman's aggressiveness paid off again as she stole the ball and zipped down for a layup with one minute, eight seconds remaining to give De Soto the lead for good, 46-44.
The win was a relief after a rough outing Friday against Paola. De Soto trailed 21-4 after a quarter and went on to lose 64-35. Blankenship and Gonzalez each had 10 points and Goleman added nine.
More like this story