Scholastic Cats ready for stretch run
At De Soto High School, students with a know-it-all attitude are matching wits on this year's scholars' bowl team.
Peter Harley, a new instructor this year and scholars' bowl sponsor, said the students have been doing very well in competitions.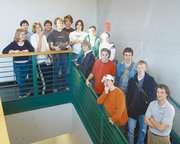 "There's not really a measure of who's doing better, but you know if you've won more than you've lost," he said. "Remember how in every class there's always that student who knows the answer to nearly everything? These kids are so smart they sometimes make me feel stupid."
The students are quizzed on a variety of trivia questions -- three in math, three in history and three in science. De Soto has four teams with about 15 students total. The students travel to other high schools in the area to compete against their teams -- about six meets total.
This year, De Soto High School will be the host of a regional meet in February.
Sophomore Trisha Roberts said she enjoyed the chance to compete with her mind.
"It's just fun," she said. "We have a great time at practices. We just come here after school and answer a bunch of questions."
Harley said some of the questions could be difficult.
"It could be current events, but that might mean current in 1988, which is before most of these kids were born," he said.
Harley said at the Mill Valley meet there were several rounds in which no team buzzed in the answers.
"The Mill Valley meet was ridiculously hard," he said. "There were a lot of obscure questions."
Students practice using Trivial Pursuit games and lists of questions submitted by scholars' bowl teams.
Harley said in addition to learning facts, the students learn teamwork and self-confidence.
"You do see a lot of hesitation with the beginning students. Buzzing in does take some confidence."
Harley said although the students could practice at school, the subjects are so broad the students can't know everything.
"It's the ones who go home and read the newspaper or learn stuff on the Internet who do well," he said. "It's really what you do in your own time."
More like this story