Landmark De Soto motel sign finds place in Cincinnati museum
The sign Dean Weller placed in front of his El Rancho Motel more than half a century has found a second life in a museum celebrating commercial Americana.
The sign is now on display at the American Sign Museum in Cincinnati, Ohio. There it is displayed with such highway icons as the familiar red-and-white-striped Kentucky Fried Chicken bucket, a Howard Johnson's Motel sign and an early McDonald's golden arches sign with number of burgers sold.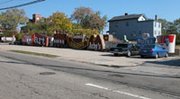 "It's here in the museum," said Tod Swornstedt, founder and president of the American Sign Museum, which opened in April 2005. "It's outside. We have a number of big signs outside."
The De Soto sign came to Swornstedt's attention when former De Soto Explorer reporter Sara Stites called for a story last summer after learning the sign was to be removed from the recently sold De Soto motel. In addition to overseeing the museum, Swornstedt was associated with the magazine "Sign of the Times" for 26 years.
"The magazine in 100 years old," he said. "My grandfather was the first editor."
Stites got Swornstedt's name from Jim Seelen, a fellow sign enthusiast and photographer from Shawnee.
After learning from Stites of the sign's uncertain future, Swornstedt called Seelen to see if it was worthy of the museum.
"In the Kansas City area, it was one of my favorites," Seelen said. "Tod asked me if it was worth saving, I said, 'You bet your boots.'"
Seelen had already donated signs to the museum, and Swornstedt trusted the judgment the Shawnee man developed from his extensive travels to photograph surviving artifacts from bygone days of cross-country automotive travel.
"I probably have more photographs of old vintage motel signs than anybody," Seelen said. "You just don't find signs like that anymore. I recently went on a road trip to Texas and Louisiana and only found a few."
The El Rancho sign's appeal is its roster of elements found on mid-20th century signs, Swornstedt and Seelen said.
"The reason I like the sign is it's a typical sign of the '50s, which is painted sheet metal with neon illumination," Swornstedt said. "But it's really nice because it's not just a square or circle. It has the cactus projecting from the box.
"That was the style of a sign during the '50s, in that it has open letter with illumination."
Swornstedt said he had started restoring the sign, a process that began with the removal of its broken neon. While doing so, he discovered its original chrome yellow and blue paint scheme had been painted over.
"The main part of the sign was originally much most intense than the earth tones it was painted over with," Swornstedt said. "We generally don't repaint signs, but we might repaint that one."
As for the man who commissioned the sign in 1951, he is pleased to hear the sign survived.
"I'm very happy to hear it did end up in a museum," Weller said.
The sign might soon move again. With 120 signs inside and 10 large ones across the street, the museum is rapidly outgrowing its space, Swornstedt said.
In a more important indication of the museum's popularity. Swornstedt said attendance was good in the museum's first nine months.
"Apparently, there's a lot of emotion beyond me," he said. "Particularly with senior citizens -- they really enjoy it when they come see it. It brings back memories of the relationship between the open road and the automobile."
Fueling the museum's popularity has been a steady stream of magazine and newspaper features. More publicity was earned when the museum was included in a recently published book called "Weird Ohio," Swornstedt said.
More information on the museum and a virtual tour its displays can be found at signmuseum.org.