Volunteering in the genes of Starside
PTA

president
Visit Starside Elementary School during any special activities or holidays, and Kay Speed is there.
Serving as the school's Parent Teacher Association president for the past three years, Speed said she was always eager to help out.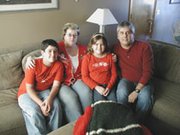 "This is my sixth year I've volunteered for teachers," she said. "I really like that -- that's how I got to know the teachers and administration and learn a little bit more about my children's school."
Her children, fifth-grader George and second-grader Sara, are already learning their mother's spirit of volunteerism through the school's community service club.
Speed said her parents instilled the idea in her of the need for community service while she was growing up in Illinois.
"My mom, especially, was a volunteer for many years and still is, in her 70s," she said. "They instilled that in me -- which I'm passing on to my children. I think people in the community need to realize it's such a great way to teach that -- they learn from example."
Speed is a stay-at-home mom, and her husband, Sonny, is an AutoCAD support technician.
Sonny Speed, who grew up in Topeka, also volunteers with activities in the community. Eight years ago, the family decided to move to De Soto.
"We just really liked the small town environment and the schools," Kay said.
Volunteering quickly made Speed feel as though she had always been a part of the community. In addition to the PTA, Speed helps teachers with office work at the school. She's also becoming more active in her church, De Soto United Methodist Church. She volunteers to lead her children's Scout troops.
"Because I volunteer other places outside the school, it's helped me get to know people in the community and have a sense of belonging," she said.
The Starside PTA is responsible for several activities throughout the year. PTA members organize the December holiday festival and three dinners to recognize teachers throughout the year. The PTA has even organized grants to supplement the nutrition and health education of Starside students. Last year, the organization brought the interactive Body Walk to the school, which teaches children about the human body's internal organs using a walk-through portable museum.
Speed said one of the benefits of volunteering at her school was fostering a close relationship with her children's teachers.
"It definitely helps me and my children," she said. "It's given me a pretty close relationship with their teachers and school administrators. If I ever have a question or a problem, I feel comfortable going to them."
Speed said the PTA was an excellent way for parents to learn how to get more involved in their child's school. Next year when her son George is a Lexington Trails Middle School student, she said she planned to participate in the PAWS parent group, which is similar to a PTA, she said.
Speed said the positive interaction she gained from serving on the PTA couldn't exist without the teachers, administration and the parents at Starside.
"There are five of us on the board who work very hard throughout the year, but we could not do what we do without our parent volunteers," she said.
The De Soto Explorer is running a series on those who, like Kay Speed, are making a difference in the community through volunteerism.
To suggest someone for recognition, call 585-1616 or e-mail the newspaper at editor@desotoexplorer.com.
More like this story