Stepping up: Child's kindergarten experience schooled
LTMS

mother in volunteering
Teresa Smith doesn't think she's deserving of volunteer recognition amidst other dedicated parents.
Her son's principal knows better.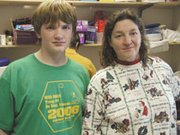 "Teresa Smith has been actively involved in Lexington Trails Middle School PAWS for years," said LTMS Principal Mark Schmidt. "She is very deserving of recognition."
The De Soto woman's only son Derek is now in eighth grade at Lexington Trails. As her son grew up and changed schools, Teresa found herself volunteering for Boy Scout pancake breakfasts, organizing student activity fund-raisers and helping out at Scout camps. Smith has helped organize concession stands at De Soto Days and sells spirit wear to support the middle school sports teams.
During the day, Smith works at Physician's Reference Lab in Overland Park. Her husband, Mark, who also volunteers at school and Scout functions, owns a printing business in Overland Park.
Smith said her volunteer activity began when her son was in kindergarten at Starside Elementary School.
"We had a great kindergarten teacher and she loved having parents come in to help," she said.
Soon, she found herself president of Starside's PTA for a couple years and then organizing Lexington Trails activities when her son moved on to middle school.
"You just do it to keep busy," she said. "With us only having one, it was important to help out. You start out wanting to help, and you just can't say no."
Smith said she's just one part of a community of volunteers.
"I've met some great people, and it's a great way of knowing what's going on," she said. "You'll find the same thing with Girl Scouts, 4-H, all the schools and churches. I couldn't do any of this without all these people wanting to help out."
Smith said she'd probably move on to volunteering at De Soto High School next year, where her son will be a freshman.
Derek, who said he's a little glad to have his mom around, said he plans to try out for football, basketball and track next year.
Smith is sure she'll be there for every game.
"I enjoy the kids; they crack me up," she said. "With so much of the helping out, I just enjoy watching these kids grow up and their different personalities. Somewhere in there you hope to make a difference."
More like this story