Giving voice to the holidays
Eighth-grade choir develops talent and performance skills Eighth-grade choir develops talent and performance skills
Shoppers in Lenexa last weekend were greeted with smiling, well-dressed Lexington Trails Middle School eighth-graders singing Christmas carols.
Gayle Moriarty, a 20-year teaching veteran with the USD 232 district, led them in song. The students performed various musical numbers including a version of "Santa Baby" with the eighth-grade girls doing the actions.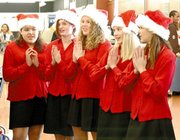 Melissa Erickson's daughter Lacey is in the eighth-grade choir this year after transferring from Maranatha Academy. Erickson said choir was one of the things that helped Lacey feel more at home in her new school.
"Mrs. Moriarty is just the greatest," she said. "She goes above and beyond with the kids, and she just loves it."
The students will perform during their concert at 7 p.m. Tuesday at the school, 8800 Penner Avenue.
Moriarty said because the school can't fit all the parents into the auditorium at once, sixth-grade students would perform Thursday.
Moriarty said the sixth- and seventh-graders are required to take music, so they spend time learning music theory and general music as well as performing. The eighth-graders are in choir because they want to be there. She said there is another performing group, the LTMS "Spirit Singers," but because the group is extracurricular they can only meet twice a week for 20-minute rehearsals.
"We just barely get something learned by performance," she said.
The Spirit Singers do get to learn music in time for the Kansas Music Educators Association's contests in the spring. Many of the students in the group are band students who can't take choir at the same time.
"They have to choose between band and choir," she said. "So it gives those band kids a chance to take choir."
In the eighth-grade choir, students sometimes get the opportunity to perform outside the classroom. Last November, they sang for Hillside Village residents in De Soto.
"They loved us so much they wanted us back for the holidays," Moriarty said.
The group plans to return at 10 a.m. Dec. 21.
The eighth-grade choir dresses in uniform, with the girls in black skirts and red blouses and the boys in black pants and collared shirts. Last year's uniforms were provided by the parents PAWS group. Sometimes, Moriarty even makes the uniforms herself.
"It unites them and makes them look nice and uniform, so that's helpful," Moriarty said.
Uniforms are especially important at the middle-school age, so girls can focus on the music rather than their bodies, she said.
Moriarty said performance was a skill any student could use outside the classroom.
"I think it really gives them an opportunity to show their stage presence," she said. "It's learning to handle themselves in other kinds of situations. When you go out and perform someplace, you have to be flexible; you have to be patient. When you can walk into a room of strangers and know how to handle yourself and stand tall, those kinds of things can help you even if you're not singing."