County
GOP

names Kline

DA
An exclamation point was put on the 2006 Kansas election cycle with the selection Monday of Kansas Attorney General Phill Kline as Johnson County district attorney.
With his election at a county Republican Party caucus in Lenexa, Kline will succeed Paul Morrison, the Republican-turned-Democrat who easily defeated him five weeks ago in the race for attorney general.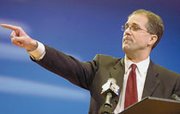 Kline edged Steve Howe, a 16-year veteran of the district attorney's office, 319-291.
That Kline's November defeat came on strength of Morrison's 53,000-vote advantage in Johnson County was on the minds of many at the caucus at Lenexa's Westside Family Church. They cited his divisive influence within the party and questioned his ability to hold the position for Republicans in two years.
"I think the voters have spoken, and it was clear the first time," said Shawnee precinct committeewoman Carol Garton.
She came to the meeting planning to support Morrison's No. 2 man in the district attorney's office, Rick Guinn, but said she could support Howe, Garton said. They had the experience and could win re-election in 2008, she said.
Kline supporter Christina Braymer of Gardner said she wasn't sure Kline would run in two years. She had no qualms about his ability to perform in the office with no experience in jury trails.
"He's a good guy and a strong prosecutor," she said. "He knows what it takes."
In the end, the 46-year-old Kline had enough support with the 360 conservatives among the county's 653 precinct committee men and women to prevail.
"I am honored by the faith the party has vested in me as its nominee for attorney general in 2002 and 2006 and by the vote today," Kline said in a statement released after the vote. "I will continue to passionately focus on the protection of our children and the vulnerable and to ensure the safety of our neighborhoods and communities."
The vote came down to Kline and Howe after Rick Guinn, another long-time prosecutor in the district attorney's office, and Lenexa attorney Scott Hattrup announced their withdrawals in speeches to the caucus. Guinn did so after citing the importance of continuity in the district attorney's office, effectively making his speech an endorsement of Howe.
Howe and Guinn also stressed their experience as prosecutors.
"Many of those experiences can influence your effectiveness when you take on a tough case," said Howe, who heads the district attorney's white-collar crime unit.
Guinn said the district attorney's office has earned the respect and trust of Johnson County law enforcement officers and district court judges.
Kline defended his own record as a prosecutor, citing the two-fold increase in criminal cases and three-fold increase in homicide cases his attorney general's office prosecuted in the past four years.
He also cited his investigations as attorney general into Kansas abortion providers, including Planned Parenthood of Kansas and Mid-Missouri in Overland Park. There had been public violations of the law in Johnson County, he said, and it was the Johnson County district attorney's job to enforce the law.
He also reminded voters of his pro-life roots.
"I'm not new to the cause," he said in a speech to the caucus before the vote. "I have been tested in leadership, and you know I will stay the course."
Howe, too, said he would prosecute any violations by county abortion providers. That stance earned him the support of a number of conservatives. He was nominated by Charlotte O'Hara, a longtime pro-life activist who narrowly lost last month in her bid to unseat Johnson County Commission Chair Annabeth Surbaugh.
"I took a lot of heat for this," said O'Hara, who also was the host Sunday of a meet the candidate gathering for Howe. "Steve will be the district attorney who will do a good job of maintaining the continuity of the office."
As the votes were being counted, O'Hara said she would fully support Kline but Republicans would leave the caucus divided if he prevailed.
After the vote, Johnson County Republican Party Chairman Scott Schwab, who served on Kline's re-election campaign, agreed that questions remained of Kline's appeal to the county party and his ability to keep the seat.
"Those are legitimate concerns," he said. "He is a very polarizing figure. I think the questions will be answered in how Phill Kline runs the office in the next two years."
Kline left the church immediately after thanking the caucus and was unavailable to reporters.
In his pre-vote speech, Kline said some changes were needed in the district attorney's office. The office should be more involved in the CyberAN Crimes Task Force he established as attorney general and should cooperate more with federal authorities in prosecution of traveling child predators.
Kline also called for "vertical prosecution," in which prosecutors would be assigned to a case through all phases of prosecution.
Changes were coming to the district attorney's office that has seen stability through the administrations of Morrison and now 3rd District Congressman Dennis Moore, Howe said. He did not know what his future with the office would be.
"That's up in the air," Howe said. "It's ultimately up to the winner of tonight's election -- just like the rest of the staff."
Howe said it was too early to comment on a possible run for the office in two years. After a hectic few weeks, he was ready for a break with his family, he said.
Morrison and Kline will switch offices in January. For Kline the transition will mean a pay raise from the $94,596 he made as attorney general to a $143,225 salary as district attorney.
The selection is the latest twist in a political career that started when Kline ran for Congress as a student at Kansas University. He was elected to the Kansas House in 1992 and served through 2000 -- earning and then losing a leadership position -- narrowly failed in an attempt to unseat Moore in 2000, and then won a close race for attorney general in 2002 over a little-known Democrat.
More like this story